Sarah Paulson shared her very honest reason for not having kids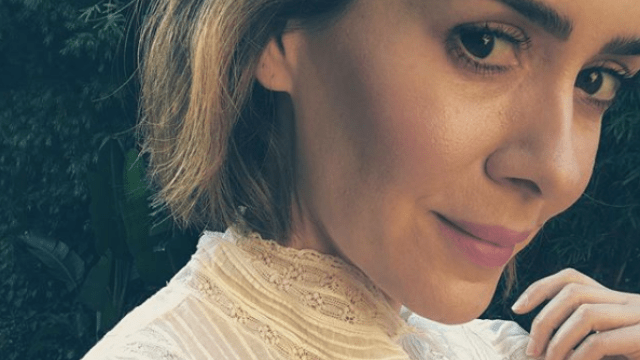 There is an unfair stigma surrounding women who stand in their truth and choose to not have kids. The negative connotation associated with the choice to be childless is frustrating, as if it were a woman's duty to procreate. Actress Sarah Paulson got real about her fear of having kids and shares why she thinks it's okay to be "selfish."
"I don't want to be torn. I don't want to look at my child and say, 'You're the most extraordinary thing that ever happened to me, but also the death knell,'" Paulson told Town & Country. "It was hard for my mother to be everywhere, to come to the school play and make a living, I've always known what I wanted out of professional life, and I didn't want to turn around and go, 'If I had only made the choice to just dedicate this time in my life to me.' It's selfish, but I think the word selfish gets a bad rap."
Paulson also revealed that she has tattoos on her arm to honor two of her former dogs and said that even having pets was too difficult to balance with her career. The quest to "have it all" has been a source of turmoil for working mothers since the beginning of time, and it sounds like Paulson has made the decision to not try and have it all, but have all that she can manage.
Later in the interview Paulson opened up about her relationships with Holland Taylor and called her life choices "unconventional."
"I do not want to be defined by who I share my bed, my home, my soul with. My choices in life have been unconventional, and that's my business. But I do want to live responsibly and truthfully without hiding," said the actress. "It's complicated, because there is a lot of hate in this world, and a lot of good can come from quote-unquote normalizing something for people who don't see it as normal. Our relationship represents a certain amount of hope and risk. Maybe there's something brave in it. Maybe it encourages others to make brave choices. What else can I say? We love each other.
We don't see any of Paulson's choices as "unconventional" — we simply see a woman standing firm in her truth.