Drew Barrymore gave *two thumbs up* to Sarah Paulson's impression of her, and it's not awkward at all for either star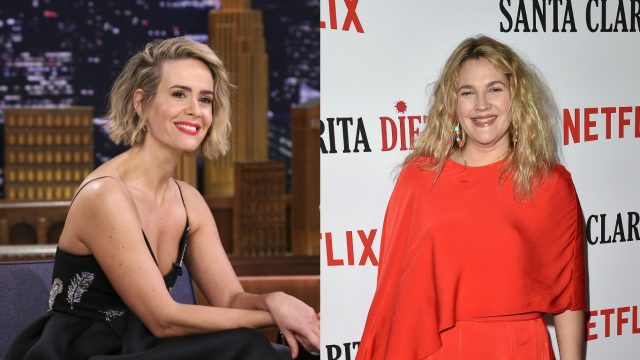 Let it be known: Sarah Paulson is the queen of impressions. She can do killer portrayals of anything and anyone, including fellow famous celebrities. Perhaps her most memorable depiction (and also the most impressive) is that one time she impersonated Drew Barrymore, which was so spot-on you'd think the Santa Clarita Diet actress inhabited her soul for a moment. But while we're all marveling at her superb characterization prowess, Paulson thought it is more of a curse than a gift.
Because, the thing about a renowned celebrity doing impressions of another renowned celebrity is that you may run into them at any given moment and not know how to explain yourself.
Appearing on The Tonight Show, the Ocean's 8 star recounted to Jimmy Fallon how horrified she was when she accidentally bumped into Barrymore at a birthday party.
"I didn't realize how that could be potentially a big problem, because somebody might be a little offended, she quipped. "I ran into Drew Barrymore at Ellen DeGeneres' 60th birthday party — and all of a sudden I had this white-out in terror, thinking, like, 'I did an impression of her on national television, she may hate my guts!'"
As it turns out, she did not have to worry about a thing after all! Barrymore apparently gave her the two thumbs up and thought Paulson's impression of her was amazing.
"She didn't [hate my guts]. She thought I was okay," she divulged, before slipping into yet another stirring impression of the actress. "She was like, 'Sarah that was such a good impression. I thought it was so, so accurate. I feel super honored. It was so sweet of you.'"
https://www.youtube.com/watch?v=kATuE1S5qk0?feature=oembed
But Paulson thinks it's best that she retire from doing any more celebrity impressions so as to avoid another awkward party encounter. You know what she'll start doing instead? Mimicking animals. And that she did. She screeched and did a realistic dolphin impression, and honestly, can somebody please give this woman another Emmy?
Oh Sarah, never change.