Sarah Paulson had the best response to whether cat fights happened on set of "Ocean's Eight" and you must hear it
Ocean's Eight might be an all-female cast, but Sarah Paulson shuts down and rumors of cat fights on set and we are SO happy about it.
Just because women are working together in a "man's world" doesn't mean it's going to result in cat fights on set, and the fact that this is even a common misconception is so insulting. Paulson, who stars in the upcoming Ocean's film agrees with the fact that these female stereotypes are SO ridiculous.
The Wrap chatted with the Golden Globe winner and asked her about the doubts and analysis of the all-female cast of Ghostbusters, wondering if Ocean's Eight was feeling the same pressures or getting flack for possible girl fights on set.
"Not in the slightest. I've never had anything like that happen on that set, I don't come from a world where I expect that," Paulson told The Wrap. "I just think it's sort of sad, really, that that would be the expectation."
The American Horror Story actress then pointed out that men would never have to deal with questions about fighting on set, because it's an outrageous thing to assume actors or actresses do.
"I promise you it would not be like that if a bunch of boys would get together — 'bro fights,'" the actress explained. "I hate to support that narrative or that idea and it certainly couldn't be further from the truth."
You tell them, Sarah!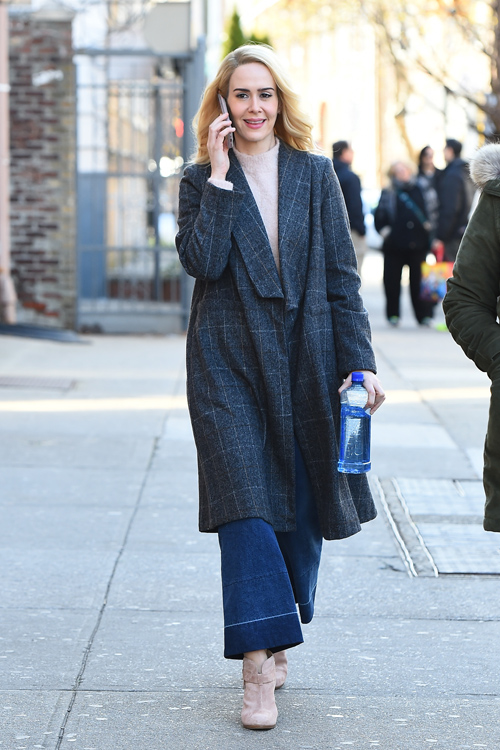 Girl fights aren't something that happens every, or really any, time women get together. Instead #GirlBoss moves and girl power come to mind and we can't wait to see the Ocean's Eight ladies prove it.
Ocean's Eight is set to hits theaters on June 8th, 2018.