Sarah Michelle Gellar celebrates Throwback Thursday this Thanksgiving, gives us all the feels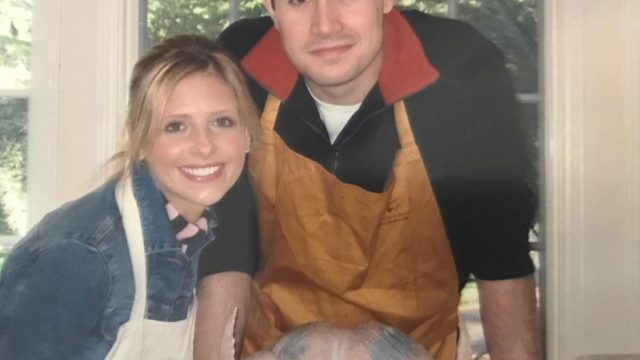 Sarah Michelle Gellar celebrated not one, but two traditions this Thursday: Thanksgiving, and Throwback Thursday. In fact, she conquered the dual holiday in one fell swoop: Sarah Michelle Gellar shared a picture of her and Freddie Prinze Jr's first Thanksgiving together! The result is, of course, adorable. But perhaps not as adorable as the other Throwback Thursday picture Sarah Michelle Gellar shared: that of her as a child with Santa Claus! The Throwback Thursday game is strong with this one… and we were already impressed by her ability to describe movie plots in five words or less.
The Thanksgiving awwws began when Sarah Michelle Gellar shared this Thanksgiving picture:
Apparently neither actor ages. Yet, perhaps even sweeter than the photo itself is Sarah's message:
"This was our first Thanksgiving, and while we had a lot to be grateful for on that day, it doesn't compare to all that we have now. I try very hard to be grateful and appreciative all year, but it doesn't hurt to have one dedicated day."
She speaks some serious #truth.
Sarah Michelle Gellar and Freddie Prinze Jr. met on the set of the 1997 horror film I Know What You Did Last Summer. The two officially tied the knot in 2002, and have two children together: daughter Charlotte Grace and son Rocky James.
In an interview with People, she shared her secret to marriage success:
"Take the 10 minutes – put the phone down. Have a cup of coffee together. Walk the dog at the end of the night. Read a story with your kids. Make the most of the time that you have. We are all pulled in so many directions, so make sure that, whichever one you are focusing on, you're present.
That's some wise advice we could all use.
Even before her Thanksgiving Throwback, Sarah Michelle Gellar had shared another photo from her past!
How cute is little Sarah Michelle Gellar? That face! We bet Santa brought her whatever she desired. Let's cross our fingers that Sarah continues to share these fantastic photos from her past with us!