We're sobbing tears of nostalgia: Sarah Michelle Gellar just acknowledged "Buffy's" 20th anniversary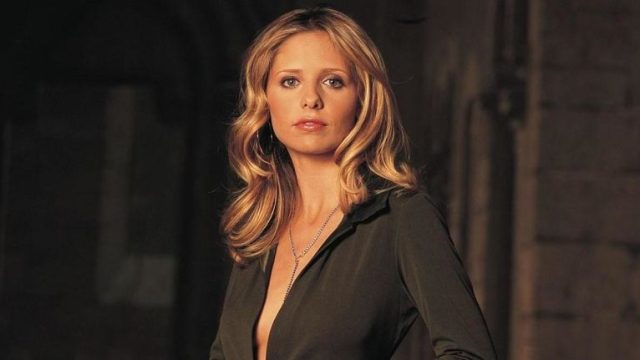 Twenty years ago today, Buffy Summers burst into our lives as the vampire-slaying feminist hero we didn't even realize we needed in our lives. Since its debut in 1997, Buffy the Vampire Slayer has been in contention as one of the best series in history.
As the momentous occasion has approached, fans and cast members alike have reflected on what Buffy means to them, from episodes that have defined the series to incredible behind-the-scenes moments. In a moving Instagram post, Buffy Summers herself, Sarah Michelle Gellar, wrote about her experience on the series and it's clear that her fondness for the show hasn't wavered in twenty years.
Gellar began her post acknowledging the difficult road the series embarked on before finally airing on The WB.
She wrote, "20 years ago today, I had the greatest privilege to bring Buffy to your tv screens for the first time. It was a long and challenging road to get there. First the movie, then a passed over pilot presentation, and eventually a mid season time slot on a little known network. That first season, we liked to think of ourselves as the little show that could. While we knew the potential, I don't think any of us saw the lasting impact our show would have.
The heart of her post was about the importance the show had on a generation of young women watching when it originally aired — and the many others who've seen it through syndication or streaming platforms.
"As an actor, you wish for that one role where you can leave your mark and forever be remembered, with Buffy I got so much more," Gellar wrote. "She's a feminist challenge to gender hierarchy. Buffy may have been the Chosen One, but I was the lucky one.
Gellar concluded the post by thanking her cast mates — including Alyson Hannigan, David Boreanaz, James Marsters, Michelle Trachtenberg, creator Joss Whedon, the crew, and (of course) the fans, writing,
"And lastly, but most importantly thank you to all of you, the fans. We made this show for you, and your unwavering support has kept this show going long past our seven years. You are everything. And always remember..."if the apocalypse comes, beep me."
Buffy will always hold a special place in our hearts for being such a wonderfully feminist show for teens. We've seen the series dozens of times and always get chills by how incredible this show is for women. We're so glad to have this show in our lives and we're probably going to celebrate by binging the series this weekend!