Sarah Michelle Gellar dishes to us about beauty, baking & why she can't watch her old horror flicks anymore
This time of year, Sarah Michelle Gellar is no unfamiliar face on our TVs with Halloween (and post-Halloween) horror flicks taking over our Netflix accounts. With a library of scary flicks under her belt, she's basically the original scream queen, and it's one of the many reasons we straight-up adore her. We're talking all the late '90s/early 2000s greats here—I Know What You Did Last Summer, The Grudge, Scream 2, and, of course, Buffy the Vampire Slayer. Buuut, you won't catch SMG re-watching her own glorious, fall-perfect flicks anytime soon. Why you ask? Well, the answer is more way obvious than you'd think!
"As my kids are young, the channels that dominate our household don't usually show those movies," Sarah told HelloGiggles. "I figure there has to be something more important that I can be doing than watching myself on TV!"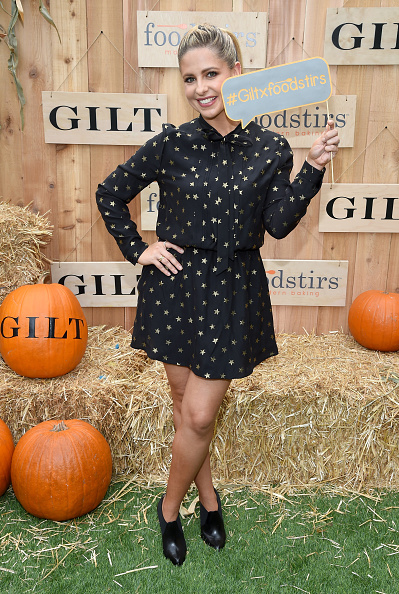 And considering the actress is basically one of the hippest celeb mamas, well, ever, it's no surprise her house is a totally kid-friendly zone. We caught up with the mama and co-owner of Foodstirs (AKA an epic baking kit company that delivers made-from-scratch recipes and ingredients to your door each month) on all things fall at the Foodstirs x Gilt event, celebrating the launch of the all-new Frozen Hot Chocolate kit available on Gilt.com. So go ahead, scroll on down, and hear from one of our favorite cool mamas on all things fall baking, beauty, fashion and more!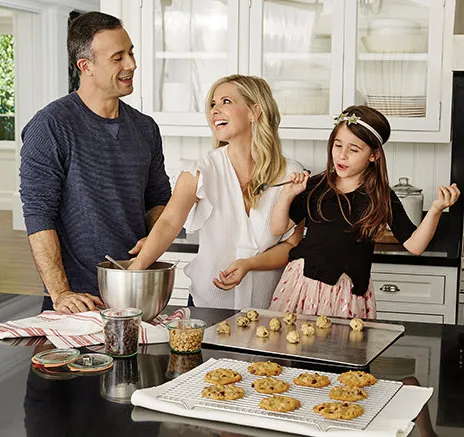 HelloGiggles: What are your favorite fall treats to bake with the kids (including those delicious frozen hot chocolate cupcakes, obviously)?
Sarah Michelle Gellar: For us, it's more about the time we spend than what we are actually making. That being said, once we hit this time of year anything pumpkin appeals to us. If my kids had their way, we would add pumpkin to everything! We love using Foodstirs pancake mix and adding pumpkin and cinnamon. Most importantly, during all the craziness of school and holidays kitchen time is a great way for us to unplug and connect. It's creative and learning all at once and at the end you get to eat it, so it's a win all around.
HG: So what other fall recipes do you like to whip up when entertaining during this season?
SMG: I am New Yorker, so hot chocolate is always being made at our house. I love serving it in mason jars with extra marshmallows and crushed peppermint along the rim.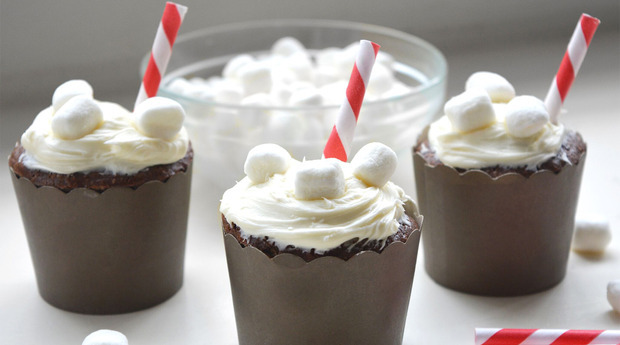 HG: Aside from baking, are there any fun, DIY crafts you do with your kids around fall each year?
SMG: My daughter is very into making headbands right now for every occasion, and that is a great at home DIY! 
HG: You've got killer style, so we've got to ask: What's your go-to fall outfit?
SMG: Nothing beats a good sweater, leggings and boots. Even before I played Buffy, I was a boots girl (must be my east coast upbringing!), and I love a big chunky scarf.
HG: And do you have any special fall beauty regimens you swear by?
SMG: I have dry skin naturally, so moisturizing is key for me. I think sometimes when it's fall/winter we forget the basics like sunblock and extra moisturizer, but my skin needs it. I am very into coconut oil right now. As a makeup remover, moisturizer and even a hair mask!