This is why Sarah Jessica Parker wore a black wedding dress — and why she regrets it now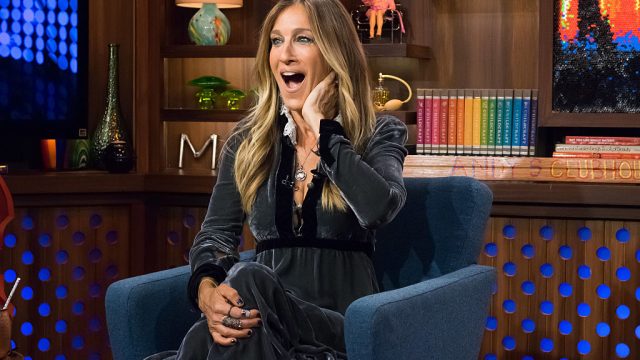 If you're a die-hard fan of Sarah Jessica Parker, then everything she has ever worn (especially in Sex and the City) has been major #goals! I mean who isn't coveting a pair of SJP high heels. But if she had a chance to re-do one fashion moment, it would be to not wear the iconic ruffled black Morgane Le Fay wedding dress for her big day.
Last Thursday, Parker appeared on Andy Cohen's Watch What Happens Live to promote her new HBO show Divorce. Parker is a far cry from her character, who is dissatisfied with her suburban lifestyle and husband. In fact Sarah Jessica Parker is approaching her 20th wedding anniversary to Matthew Broderick. As she sat down with Andy Cohen and talked about her marriage, she couldn't help but confess that the black wedding dress she wore to her wedding wasn't exactly one of her major fashion moments.
She said, "Oh, I wish it was because I was badass. I just was too embarrassed to spend any time looking for a wedding dress. There was a store that I liked that I knew, and I just went and got whatever they had hanging.
Although we absolutely adore the black dress, we can understand her trepidation in wearing white at the time and spending too much time picking one out. With all the spotlight on her, every women deserves to enjoy their special day without the media attention. Don't worry though SJP, we still think you're a badass, especially with your new editorial director role!