Sarah Jessica Parker is now selling mismatched sandals, so you can channel your inner Carrie Bradshaw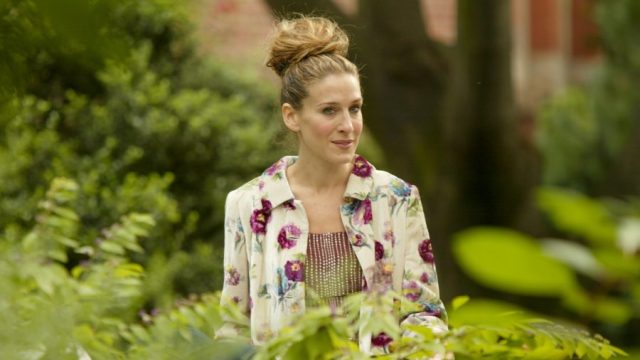 If ever there was such a thing as a shoe icon, we have no doubt that Sarah Jessica Parker—and the character she made famous, Carrie Bradshaw—would fit the bill. Parker loves paying homage to Sex and the City, especially with her namesake shoe collection, and her latest design will bring fans back to one of Carrie's most iconic style moments in the series: her mismatched Louboutins.
In Season 3, Episode 13, "Escape from New York," everyone's favorite Manhattanites travel to Los Angeles. In the episode, Carrie can be seen wearing two different shoes—a metallic red sandal and a metallic teal one. It left viewers wondering whether the shoe switch-up was intentional or not.
So now, two decades after the episode aired, Parker is selling actual mismatched sandals for your own Carrie moment.
Partnering up with Every Outfit on Sex and the City, an Instagram account that celebrates all the beloved style moments on the hit HBO series, fans can get the SJP Collection Rogue sandal with one in pink and one in yellow. Featuring a satin finish and a bedazzled buckle for a hint of sparkle, these are the stilettos every SATC fan will covet for their own closet.
https://www.instagram.com/p/B89C_sslcuD
At $385 per pair, the limited-edition version of the Rogue sandal is definitely a splurge, but part of the proceeds are going to a worthy cause. Parker announced that 20%of the sale price will benefit  The Empowerment Plan, a Detroit-based organization that provides employment and training to low-income individuals (many of whom are women) who manufacture sleeping bag coats for those in need.
So far, 35,000 coats have been distributed worldwide, providing both Michigan residents and people much further away a bit of warmth from the cold.
https://www.instagram.com/p/B89DYakgM0B
Fans can snag their own pair here, but no word on how long these beauties will last. As for that mismatched shoe moment from the show, Parker revealed on Instagram in 2019 that it was intentional. She wrote that she and costume designer Patricia Field had two pairs of the Louboutin sandals and chose to mix them up because "both were so delicious in color and seemed in harmony with the dress but also because we simply loved doing 1 of each."
https://www.instagram.com/p/BzLy-U1gfIv
So there you have it, folks. A beautiful shoe for a worthy cause—what could be better than that?