Sarah Jessica Parker posted the absolute sweetest birthday message for her "sister" Kim Cattrall
Birthday wishes are in order for the mother of all maneaters, Sex and the City's Samantha Jones! On Sunday, Sarah Jessica Parker wished Kim Cattrall a happy 60th birthday with a throwback Instagram post and we honestly couldn't think of a better person to bid her a happy born day than the woman who'll always be known as Carrie Bradshaw.
"Happy birthday you beauty @kimcattrall," Parker captioned the photo. "Sending love and the very best for a perfectly marvelous, joyous, healthy and adventure filled birthday year. Your ol' pal, fellow mischief maker and 'sister,' Sj xxx."
We're pretty sure Jones would approve of Parker's sexy photo selection. It's basically what we'd expect if Samantha Jones had a Tinder profile.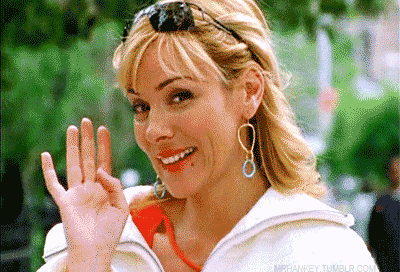 We're also loving Parker's super thoughtful message, which completely shuts down (or at least classily side-steps) rumors of the pair's supposed long-standing feud. Keep the love flowin', ladies. We will never not be here for women supporting other women, especially when people are obsessed with pitting them against one another.
Anyway, how sweet is this gesture, guys? This mushy moment between two girlfriends is about to send us down a rabbit hole of hypothetical SATC storylines that involve us having birthday cocktails with Carrie, Samantha, Charlotte and Miranda.