Sarah Jessica Parker posted this holiday duet and we have chills
Sarah Jessica Parker is feeling the holiday spirit in New York City right now.
The actress took a moment from the hustle and bustle of the city to stop and enjoy two subway carolers beautifully singing "Holy Night." The video, shot from an underground subway tunnel, has more than 23,000 likes and more than 263 views.
The singers, identified in the comments section as Anu and Kesha, wrote that they were singing their duet when they noticed a woman videotaping them. The two were unfazed, since it's common for passersby to whip out their phones, it wasn't until she stepped forward that they realized this wasn't just any random stranger.
The three proceeded to share a hug and a photo together, before Parker continued on her way. Kesha even started an Instagram account to post a photo of her with Parker, in honor of the serendipitous run in.
Parker herself even took to the comments of her photo to continue to share her love and support for the girls, after friends and family members chimed in to sing their praises.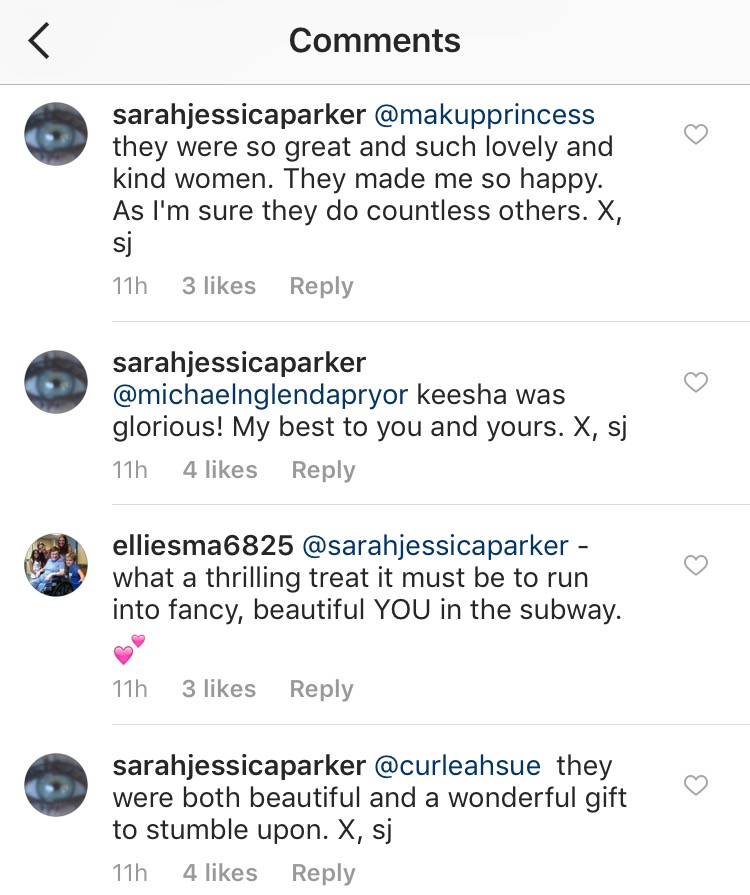 A quick glimpse through her Instagram account, and you can tell the actress is brimming with holiday spirit.
Earlier this week she shared a video of a Christmas tree, commenting "Who can resist that?
She also shared custom holiday cookies for her HBO show, Divorce, to announce the second to last episode. In the show, she stars as Frances, a beleaguered wife and mother sorting through a failing marriage. Parker has also been busy launching a new shoe line for Bloomingdale's, developing her own store and taking on the role of editorial director at the publishing house Hogarth. (Carrie Bradshaw would be so proud!)
Mmmm. We want to spend the holidays at Parker's house.