Sarah Jessica Parker clarified that cryptic comment about Cynthia Nixon's governor run, and phew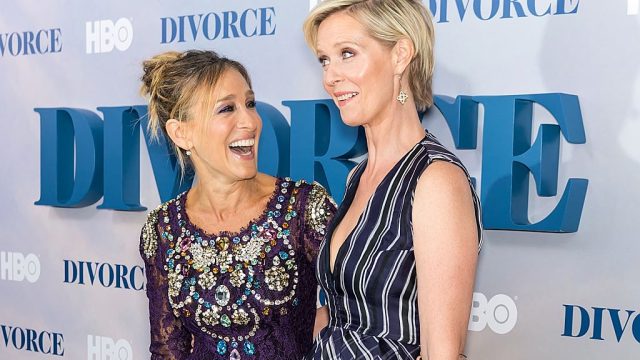 Since Cynthia Nixon announced her bid for governor of New York, we've been breathlessly waiting for her old Sex and the City pals to weigh in. Kristin Davis fully endorsed Nixon and Kim Cattrall tweeted a curt but congenial "I support her," while Sarah Jessica Parker has us stumped.
At first, SJP released a vague and cryptic statement that seemed to half-endorse her friend's gubernatorial run. On March 28th, 2018, Parker told Page Six, "Cynthia has been my friend and colleague since we were little girls. I look forward to talking to her about her New York state gubernatorial bid."
"Look forward to talking to her?" Yikes.
However, don't start the feud rumors just yet — Parker elaborated on the bizarre statement on Instagram the next day with an emphatic post, throwing all her support behind her former co-star.
"A mother, An activist, An advocate, A fighter, A NY'er, A dear friend. Running for Governor of our great state. My sister on and off screen, you have my love, support and vote," Parker wrote on Instagram. She concluded the post with a link to donate to Nixon's campaign.
We can all disregard that original statement because it appears that SJP is fully on Team Nixon.
Davis also shared a similarly glowing sentiment on social media the second Nixon announced her gubernatorial bid.
https://www.instagram.com/p/Bgg9oaPgRbR
"[Cynthia Nixon] is stepping up to run for Governor of NY," Davis wrote on March 19th, 2018. "I am thrilled to support her and I know that she cares deeply about the issues facing all of us. I'm so proud of her and I know she will work tirelessly to create change for all who need representation."
They might not all agree on Sex and the City 3, but at least the gang is rallying behind Miranda for Governor.