Sarah Jessica Parker picked up the tab on a fan's cosmo at a bar, and Carrie Bradshaw would be proud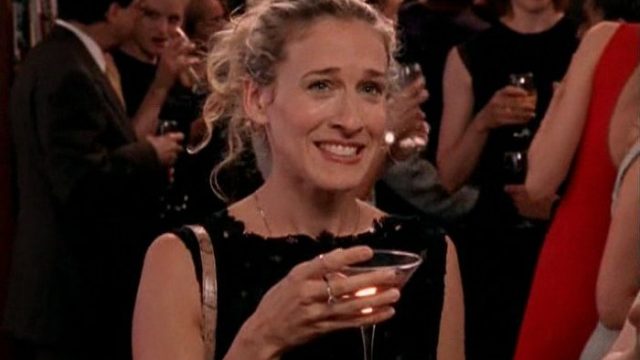 Let's be completely honest. Who drinks cosmopolitans besides fancy ladies in the late '90s? Sarah Jessica Parker was out to dinner in New York City recently when she heard that some guy at the same restaurant as her ordered a cosmo literally because he loved Sex and the City, and, as we all know, a cosmo was the cocktail of choice on the beloved HBO series.
The cosmo enthusiast was a "young French man" per Us Weekly, who ordered the drink at NYC's Left Bank restaurant and bar. While Left Bank is not on one of the now-infamous SATC tours of NYC, the source told Us Weekly that the traveler told the bartender he specifically ordered the drink because he's a fan of SJP and the show. SJP later entered the restaurant for dinner with her husband Matthew Broderick and the bartender told her about the fan, so she picked up his tab and ordered a cosmo for herself. Imagine going to New York to live out your Carrie Bradshaw dreams only for the actual Carrie Bradshaw to buy you her favorite drink?
For a time in the late '90s and early aughts, NYC bartenders hated SATC because all their customers only wanted to order cosmos. "We were chained to that drink," a veteran bar owner told Munchies in 2017. "Every bartender in the city wanted to murder me and I wanted to murder me, too."
That being said, we're willing to bet this is the first time in many years someone has ordered a cosmo specifically to be like Carrie Bradshaw. Running into SJP in New York City while sipping a cosmo is like, the most New York thing to ever happen, especially since Parker is a New Yorker's New Yorker, as in, she is rich af and still rides the subway.
https://www.instagram.com/p/BiIlBHZggrH
https://www.instagram.com/p/BhO6JkCg3kZ
Sex and the City might as well be called We Love New York City, which is why we're all so sad that a third film won't happen because of the is-there-isn't-there feud between Parker and Kim Cattrall.
Listen, they may not make any more SATC content, but at least we have Cynthia Nixon for governor and rare SJP bar sightings.