Sarah Hyland was shamed for her weight *again*, and her response is clapback gold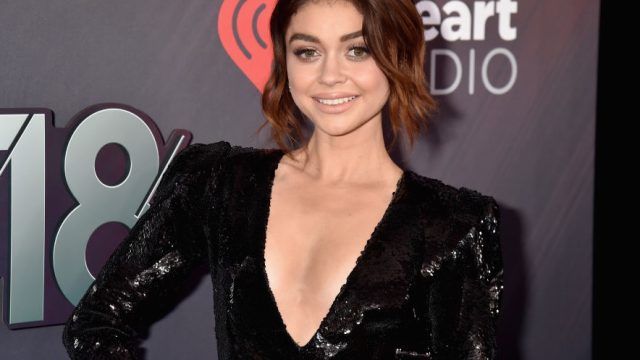 Internet trolls just can't leave the Dunphy girls alone. After openly addressing her kidney dysplasia in the past (which led to a kidney transplant back in 2012), actress Sarah Hyland just had to clap back again against Instagram trolls who told her she was "too skinny."
It's ridiculous that Hyland has to address this at all — not only because no one should ever receive unsolicited comments about their appearance, but also because — as Hyland has stated in the past — her health condition often means that her body shape is out of her control.
On March 5th, she posted a photo in which she looked gorgeous at the Vanity Fair Oscars after-party. But the comments soon became so negative that she edited her caption this week to address them.
"In response to the negative comments on this post? I'd like to say 3 things... 1.) [middle finger emoji] 2.) I looked amazing 3.) Even more importantly... I FELT AMAZING and that's all that matters 💁🏻‍♀️," she wrote.
While we honestly would have been satisfied with point #1 alone (emojis are worth a thousand words), we're so glad that Hyland pointed out that literally all that matters is how she felt that night.
Hyland has spoken up in the past about the fact that working in the public eye should not mean that you also sign up for anonymous internet bullying, and also has made it clear that she has zero qualms directly engaging with trolls who should know better than to make hurtful comments behind the safety of a computer screen.
"Sometimes it gets too much to where I'm like, okay, I really need to make a statement right now because what is happening is not okay," she said to People. "And it happens all the time. [...] I just treat it like if someone's going to say a comment to me, I'm going to say a comment right back as if we're talking to my face. You're not behind a keyboard. You're basically talking to me.""
Body-shaming of any kind should never be tolerated, and while we hate the fact that Hyland has to deal with it on an almost daily basis, we love her approach to the shamers.
Let this be a reminder to all of us to always choose kindness and compassion over negativity, and also a reminder that words hurt — even when they're spoken via the internet.