Sarah Hyland is EXTREMELY blonde now, and we're declaring this the hair color of the summer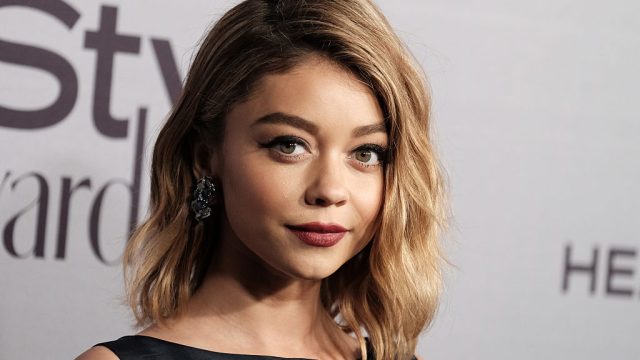 With summertime just around the corner, Sarah Hyland's not wasting any time finding the season's perfect hair color. As in, she's already found it. And by the looks of it, this bright new hue is just as gorgeous as the actress herself!
The Modern Family star exited West Hollywood's celeb-adored Nine Zero One Salon over the weekend, revealing her freshly colored blonde locks. Sarah's been a long time fan of chocolate-y, caramel locks, and has dabbled into blonde territory selectively in the past. However, this is her biggest, blondest move to date. The textured, honey-colored blonde is a warm blend with a few darker lowlights that add dimension and depth to this summer-perfect hue.
The 26-year-old hinted that a hair change was in her future just a few weeks ago, taking to Instagram to consult her followers about "what to do." And just skimming the responses, many a commenter chimed in throwing around suggestions for blonde, auburn, or ultra-dark tresses. Really, the only general consensus there is that Ms. Hyland is in fact a true #SelfieQueen. So we'll take it just a ~smidge~ further and also dub her new 'do #HairGoals.
https://www.instagram.com/p/BRmSpwkDNYo
Like we said, this isn't Sarah's first tryst in blonde territory, but it is the boldest blonde she's experimented with yet. The bright new shade isn't all that far off from the platinum hairdos we've been seeing crop up all over the place lately, like on Cara Delevingne and even Chloë Grace Moretz. So given its trendy nature and seasonal aptness, we're hardly surprised to see Sarah taking a liking to this pretty hue.
All in all, this new bright look is just plain stunning… and we're currently screenshotting this pic to send to our hair stylists ASAP.