Sarah Hyland seemingly confirmed her relationship with Wells Adams with a new necklace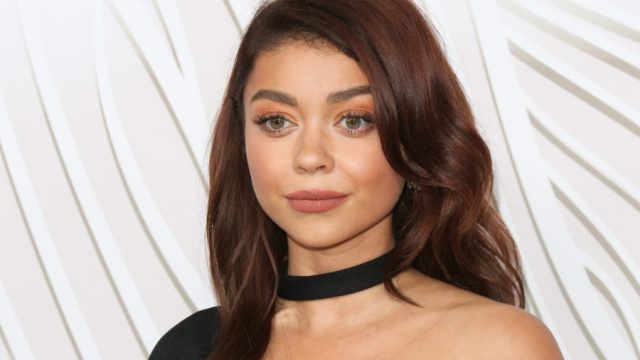 She loves to keep us guessing with her social media posts, and her latest Instagram post is pretty telling. Sarah Hyland wore Wells Adams' initial on a necklace, using a Taylor Swift lyric in her caption, and what does it all mean?!
Though she hasn't explicitly confirmed anything yet, the pair have been sparking romance rumors for a few months, adding fuel to the fire when they dressed as the Stranger Things kids for Halloween last week. Then both Hyland and Adams shared romantic pics on Instagram (complete with a twinkling backdrop and super-adorable captions).
And now, in what looks like a genuine relationship confirmation, the Modern Family star just posted the most stylish (and not particularly subtle) tribute to her Bachelor Nation boyfriend, showing off a new necklace with his initial on it.
Hyland captioned the shot "Call it what you want #notbecauseheownsme," which refers to her longtime pal Taylor Swift's new romantic song "Call It What You Want," which is strongly rumored to be about Swift's new boyfriend, Joe Alwyn.
In the photo, Hyland is posed with her pal, fellow actress Ashley Newbrough, and they're both wearing initial necklaces for their respective partners.
Hyland even tagged Adams in the shot, so there's definitely no denying who that W is for. Of course, you can call it what you want, but we're going to go ahead and say it: We think these two are one of the cutest new couples out there. We love the simple yet chic way Hyland is showing her love for her new guy, and we're here for how happy they both seem.