Sarah Hyland spent Christmas Eve the best way possible…at Disneyland!
One of the most fun things about Christmas in the social media age is seeing how our favorite celebs are celeb-rating the holidays. Some are cozied up under the tree, others are donning simply adorable matching outfits, and still others need a little more activity to get our their Christmas spirit.
Case in point: Sarah Hyland is spending the most wonderful time of the year at the most magical of places: Disneyland!
The Modern Family star took to Instagram to share pictures from her adorable holiday visit to Disneyland in Anaheim, California. In a photo collage from yesterday captioned "Merry Christmas Eve from these Disney hooligans!!!" Hyland is wearing an amazing Mickey Mouse hat while gathered with friends around a Christmas tree.
https://www.instagram.com/p/BObaISSDM49
In the first photo of the series, Hyland is curled in a big plush leather chair  in the Grand Californian Hotel with boyfriend and Vampire Academy star, Dominic Sherwood. In the next, the two are posing with friends, including fellow actor Ryan Pinkston and singer Katie Welch.
Hyland and Sherwood have been serious relationship goals since they started dating last year. The pair reportedly met while on the cast of Vampire Academy in 2014 and immediately hit it off. A quick glimpse through her Instagram and you'll see a million cute photos of the two. Even at red carpet events, they always appear to be having a blast!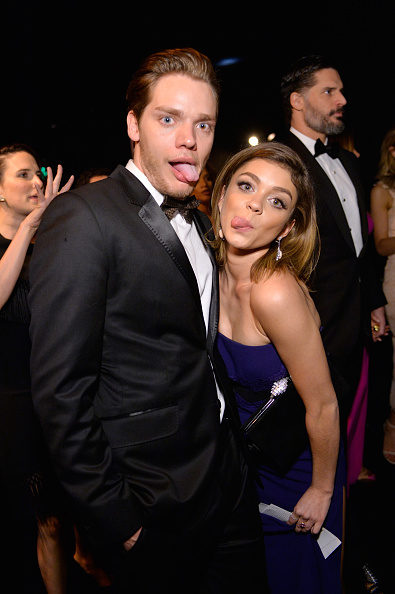 And we can't forget the photo of the two of them earlier this week, in which Hyland shares what she really wants for Christmas — for pizza to be calorie free. Don't we all, girl, don't we all.
https://www.instagram.com/p/BOLiUACju7p
Hyland has also been impressing us all with her multifaceted talent. Last month she teamed up with Boyce Avenue to perform an incredible cover of "Closer" by The Chainsmokers. Seriously, voice of an angel. And of course her Modern Family family was all incredibly supportive.
We hope Hyland is having a very Merry Christmas, filled with lots and lots of pizza.