Sarah Hyland defended her co-star Ariel Winter from trolls who criticized her dress
You know your television family has become your real family when you start wearing the same thing and sticking up for each other against the haters. When a troll came at Modern Family's Ariel Winter for wearing a similar, yet more revealing, dress to that of her on-screen sister Sarah Hyland, Hyland had no choice but to defend her little sis, and we're giving her a standing ovation.
As Modern Family wraps up its final season, we're definitely blubbering over Hyland's heartwarming post, as was everyone else in the comments. And because both Hyland and Winter look incredible in their similar sheer dresses, the girls were rightfully getting the compliments they deserve. "You ladies both look ?!!!" Hyland's fiancee Wells Adams commented. Another Instagram user wrote, "Literally the stylists on set must have had such a job trying to make Ariel look nerdy they deserve an award."
https://www.instagram.com/p/B860BUPFBlL
But, per usual, someone had to rain on the parade. When one Instagrammer commented, "What's up with ariel winters outfit tho," Hyland had to take a minute to fire back.
"You [mean] that she's ??? I KNOW," Hyland wrote back.
Game over, honey.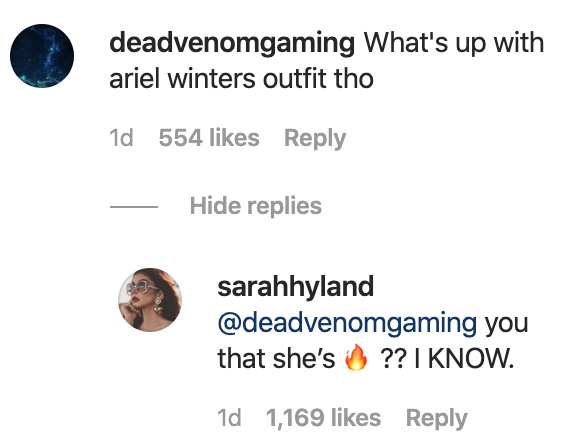 Winter has seen her fair share of body-shaming and hating on her style, but we love to see Hyland stepping in to build her up as others try to tear her down. And also, we hope people learned not to mess with Winter, as her TV sister's comeback game is far too strong.