Sarah Hyland and her boyfriend Wells Adams just dropped the L-bomb on Instagram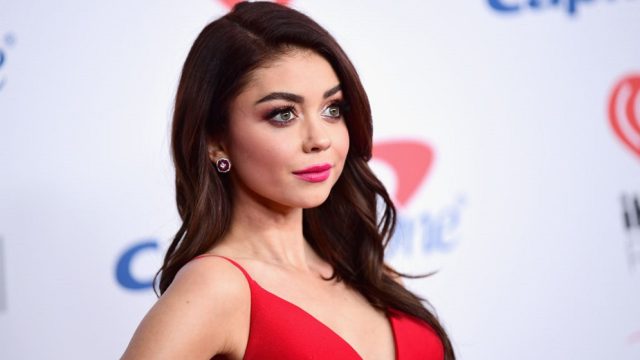 After seeing them buy their first Christmas tree together, we knew this big relationship milestone was coming. Sarah Hyland and Wells Adams said "I love you" on Instagram, and we're so happy that they've taken such a big step in their relationship. Since when it's on Instagram for their fans to see, it's serious.
Hyland and Adams started chatting with each other in a very 2017 way — through Twitter. While it was pretty apparent that they were familiar with each other's work (Hyland is a cast member on Modern Family, and Adams has appeared in a few shows within the Bachelor franchise) the two connected through social media and decided to meet up from there.
The relationship between the two was announced in October, and since then, the two have posted a bunch of sweet photos and videos together on Instagram. It was obvious that they were smitten, but it seems like the holidays proved to be the perfect time to drop the L-bomb.
Hyland publicly said it first, after posting a bunch of new photos of the two celebrating Christmas Eve together. "Merry Christmas Eve from two people who go to the Ballet in Black Tie Attire and who go to the mall in ridiculously cheesy Xmas sweaters and hats on the same day," she wrote. "I ❤️ you @wellsadams".
In the comments, Adams made sure to acknowledge the sentiment by dropping an L-bomb himself.

Who knew that love would blossom soon after she watched him try to get another woman to fall in love with him?  Hyland probably didn't know that tuning into season 12 of The Bachelorette would be such a good call.
We're calling it — 2018 is going to bring even more cute moments from these two lovebirds.