Sara Bareilles singing the Oscars "In Memoriam" song will have you sobbing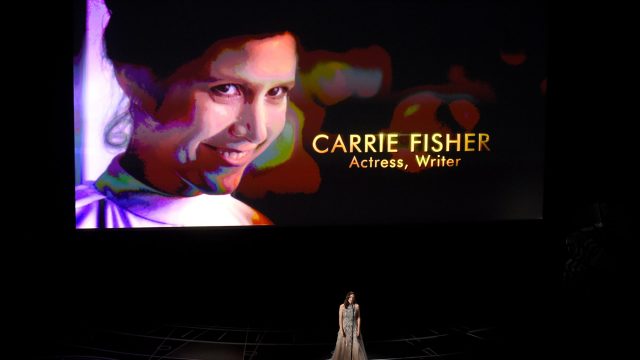 A segment of the 2017 Academy Awards was spent honoring the artists we lost in the last year. Jennifer Aniston gave a brief speech (getting teary-eyed in the process), and mentioned Bill Paxton in particular, since his death was so sudden that he wasn't able to be included in the tribute video. Jennifer introduced singer and songwriter Sara Bareilles, sang a cover of "Both Sides Now" by Joni Mitchell in honor of the actors and actresses who passed away in 2016.
Sara wore an elegant silver dress with a high neck and intricate embroidery. She barely missed a note and the whole performance was enough to make us grab a tissue box.
It was just Sara and her microphone on stage, and although her voice soared and evoked some pretty strong feelings, it didn't take away from the beautiful faces that passed by on the screen behind her.
https://twitter.com/udfredirect/status/836072896967622656
Mary Tyler Moore, Debbie Reynolds, Carrie Fisher, John Hurt, Gene Wilder, Anton Yelchin, and Prince were honored, along with many other individuals. Sara's bright yet aching voice soared over the auditorium, and our hearts broke all over again as General Leia showed up on the screen at the very end and said, "May the force be with you."
All these sudden deaths over the last year have been difficult to process, and we know Hollywood will never be the same without them all.