Sara Bareilles revealed "Love Song" wasn't written about a "he"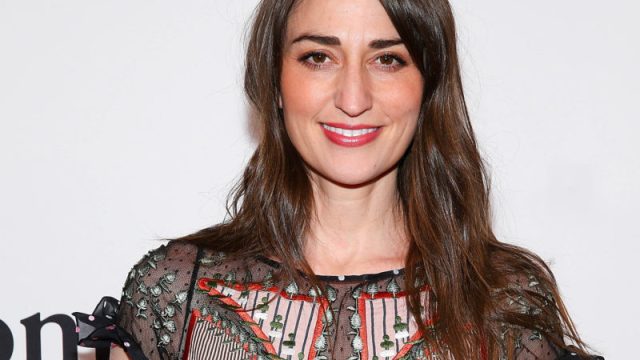 Forget everything you thought you knew about Sara Bareilles' break out song, "Love Song." When the hit dropped in 2007, "Love Song" rose to the top of the charts and hovered on the Billboard Hot 100 list for an astounding 41 weeks. With a title like "Love Song," and lyrics that seemed to describe Bareilles' relationship uncertainty, we always assumed the song was about a significant other. But, yesterday, April 30th, Bareilles took to Twitter and explained that "Love Song" wasn't written about a "he" — nor a "she."
Her post was in response to Twitter user Tyler Herron's tweet, which read, "Would @SaraBareilles be as popular today if she wrote him a love song because he asked for it? Because he needed one?"
Clever, Tyler. Very clever. And we can almost guarantee Herron didn't expect to get an answer straight from the source.
Bareilles quoted Herron's tweet and added, "it was never about a he." Gasp!
Some fans took this to mean that Bareilles was actually talking about a woman in "Love Song," which would likely mean she's a member of the LGBT+ community. But those who know the singer's history filled in the blanks. Bareilles' "Love Song" was actually directed at her record label.
But it's actually not as cut-and-dry as the above explanation.
In a 2008 interview with MTV, Bareilles explained that her record label had been pushing her to write more material, and she was having a tough time writing something they were satisfied with.
"I just wasn't having any luck...and I was just getting a really sort of blasé reaction to everything. I started to get really insecure about it, and then I got really pissed off at myself for caring what anybody thought...I went to a rehearsal space one day. I sat down and wrote something for me. And 'Love Song' basically wrote itself. It's totally honest, and I'm very lucky the label liked it as well."
https://www.youtube.com/watch?v=qi7Yh16dA0w?feature=oembed
She went into more detail in 2015 before the release of her book, Sounds Like Me. Bareilles told The Huffington Post that her label was also pushing her to collaborate with other artists, which didn't feel like the best idea for her at the time.
"The co-writing sessions, I think for me, they came at a time where I was still so unsure of my own edges," Bareilles said. "In a way, I was still sort of discovering who I was as an artist at that time. And while I don't think that any of those collaborators had any bad intentions, I just don't think I was ready to collaborate."
By the end of this phase, Bareilles had written a love song of sorts for herself, and one that ultimately launched her career.
Interpret the lyrics however you want, but for Bareilles, "Love Song" is simply about sticking up for yourself in any — and every — situation. We don't know about you, but we think we love the song even more now.