There's officially going to be a picture book about a same-sex, interracial Santa couple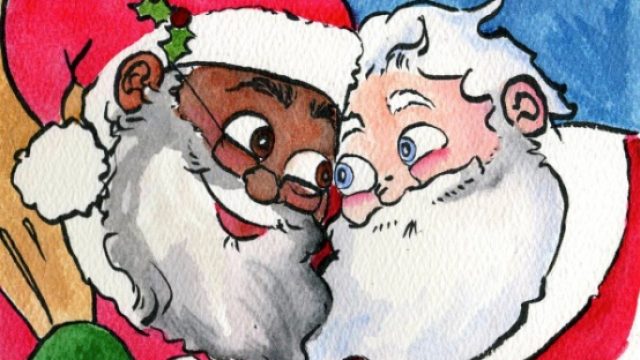 Christmas may feel like a lifetime away at this point, but we've got some seriously exciting news that will brighten up your holidays this year. Harper Design announced this week that they're working on a new picture book that depicts Santa in a same-sex, interracial marriage, and we are here. for. it.
The picture book, called Santa's Husband, will tell "the true story of a black Santa and his white husband (who often fills in for him at malls), and their life at the North Pole," according to the publishing imprint, and is meant for all ages. Depicting Santa Claus in a same-sex, interracial relationship is a wonderful way to bring the jolly Christmas icon into modern times, and it's brilliant.
The idea for the book first came about when writer Daniel Kibblesmith, a staff writer at The Late Show with Stephen Colbert, tweeted that his future children "will only know about Black Santa. If they see a white one we'll say 'That's his husband.'"
And just like that, magic was born. According to the press release, the picture book will be humorous, in the vein of the wildly popular Go the F*ck to Sleep.
The possibilities for this are endless (a book series, or an animated movie, perhaps?) and we're so excited to get a copy.
Santa's Husband is set to be released on October 10th, just in time for this year's holiday gift-buying season. Ho ho ho!
H/T Cosmopolitan.com