Zombie Drew Barrymore is trying her hardest not to kill people in the "Santa Clarita Diet" Season 2 trailer, and same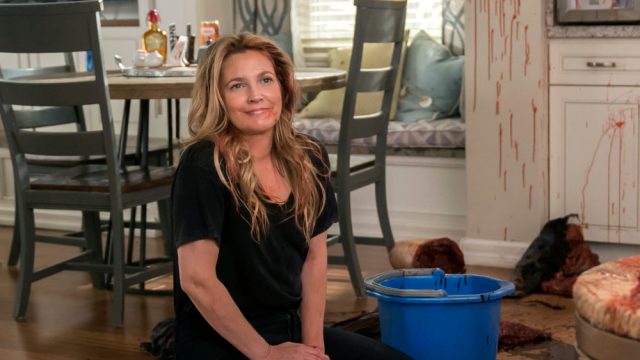 It turns out retaining a semblance of normalcy just isn't in the cards when you're undead and can't stop killing people. Netflix has dropped  the trailer for season two of Santa Clarita Diet and things are messier than ever for the Hammonds — literally.
Sure, Sheila (Drew Barrymore) and Joel (Timothy Olyphant) have killed three people and Sheila continues to crave human flesh, but they're not ready to call themselves monsters. At least, not yet. The trailer opens with Sheila chained up in the basement, trying to look on the bright side. "I know you're worried I'm gonna go out there and kill somebody," she tells her teenage daughter Abby (Liv Hewson). "But think about all the people I haven't killed. Literally, everyone in the world, except three people." 
Season 2 finds the Hammonds doing their best to adapt to the situation — even building their own  Dexter-esque kill room — but they still have a lot of room for improvement. As Joel says while the family cleans up a very bloody kitchen, "No family is perfect!"  Joel and Sheila are also trying to figure out how to stop the disease from spreading, potentially saving the world from disaster, but resident zombie expert Eric (Skyler Gisondo) thinks things are going to get a whole lot worse before they get better. Meanwhile, the sheriff's department is finally coming to the realization that something is afoot in Santa Clarita.
Check out the hilarious season two trailer:
https://www.youtube.com/watch?v=J4zP2I0PkUE?feature=oembed
Joel McHale and Maggie Lawson are set to appear during season two as a rival realtor couple, while Zachary Knighton a Serbian descendant trying to figure out the truth about the undead. Nathan Fillion will also be returning in cadaver form as Gary, a former fellow realtor and Sheila's first victim.
Santa Clarita Diet returns to Netflix for season two on March 23rd.