Hold onto your scrubs, Sandra Oh *might* return to "Grey's Anatomy"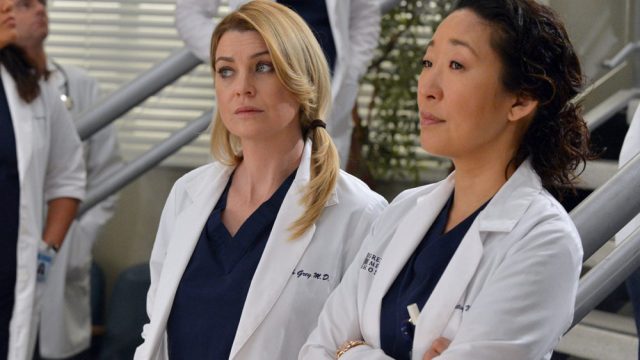 When fan favorite Sandra Oh left Grey's Anatomy at the end of Season 10, fans thought it would be the last they saw of Dr. Cristina Yang. As the heavily-publicized 300th episode will reveal, though, that wasn't quite the end of it. Sandra Oh will appear (in spirit) in the milestone ep, and we might see even more of Cristina later on!
Actor Kevin McKidd, who plays Cristina's ex-husband Dr. Owen Hunt, speaks frequently with Sandra Oh.
McKidd, who is Scottish in real life — that's not relevant, but it's always fun to hear his IRL accent — told Entertainment Tonight that Oh is open to the possibility of returning to Grey's Anatomy. McKidd also admitted that the relationship between Hunt and Yang was his favorite part of the show. They had a complexity and a passion that felt very real to the actor.
Former cast member Oh might not keep up with the show, but McKidd has kept her informed of Hunt's activities since Yang's departure — and she isn't always thrilled with her on-screen ex's trajectory.
McKidd joked that Oh was less than pleased about Hunt's relationship with Dr. Amelia Shepherd.
As it turns out, the actors might not be so different from their characters. McKidd mentioned that "When my character got married to Amelia, [Oh] got kind of jealous." In a distinctly Hunt-and-Yang turn of events, he told Oh that if she wanted things to turn out differently for the couple, she'd have to return to the show. Oh's response? "Well, maybe."
That's good enough for now!
McKidd's praise for his former costar is seemingly endless. "She's just such an amazing actor," he added, "I still miss her to this day." Luckily for him —  and longtime fans of the series — there will be at least one new episode with Dr. Cristina Yang (again, in spirit).
The 300th episode of Grey's Anatomy airs Thursday, November 9th on ABC. Seriously.