Sandra Oh is definitely in danger in the first trailer for "Killing Eve"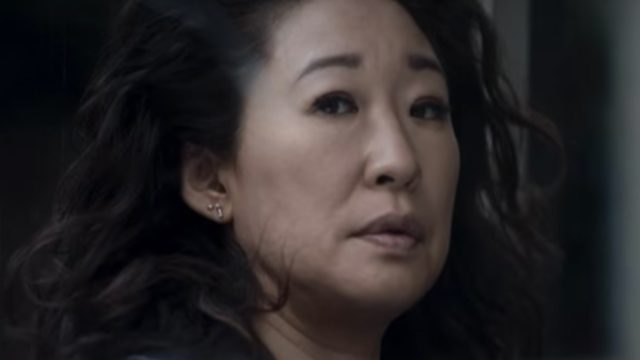 Cristina Yang, you in danger, girl. Sandra Oh is officially trading in her Grey's Anatomy scrubs for a gun in her new TV drama Killing Eve, and based on the first trailer she might be regretting her career change. Because instead of high pressure competitive surgeries, she's putting her own life on the line.
BBC America's Killing Eve is about two formidable women embroiled in a cat-and-mouse game with real life-or-death stakes. Grey's Anatomy, this is not! Based on the novellas by Luke Jennings and written/executive produced by Fleabag's Phoebe Waller-Bridge, the thriller stars Oh as the titular Eve, a bored, whip-smart, pay-grade MI5 security officer whose desk-bound job doesn't fulfill her fantasies of being a spy, and Jodie Comer as Villanelle, a mercurial, talented killer who clings to the luxuries her violent job affords her. These two fiercely intelligent women become equally obsessed with each other until they go head-to-head, and their simultaneous hunts for each other will keep you on the edge of your seat.
The first trailer for Killing Eve has officially hit the internet, and while it doesn't show much of the new series, it already has us majorly worried about Oh. From the first scene where she smashes a window and screams her head off to the very end of the footage where she's literally sitting down to chat with serial killer Villanelle, she's not exactly keeping herself out of danger. She even calls Villanelle a psychopath *to her face* which is maybe not a good way to keep a psychopathic killer from killing you. Or at least, that's our opinion. Maybe it will work out differently for Oh's character. But it's already clear that she won't be dancing it out on this new series, which is kind of a bummer. We just want our person to be happy, you know?
It's been four years since Oh said goodbye to Grey's Anatomy, and although she's had a few TV appearances here and there since then and we're still holding out hope she'll make a return trip to Grey Sloan Memorial, we're excited to welcome her back to TV full-time with Killing Eve. Reunited and it feels so gooooood. Check out the first trailer for Killing Eve below:
https://www.youtube.com/watch?v=dbe3w425o4I?feature=oembed
Killing Eve premieres Sunday, April 8th at 8 p.m. on BBC America.