Sandra Oh is here to dismantle Hollywood's Asian narrative with her series Killing Eve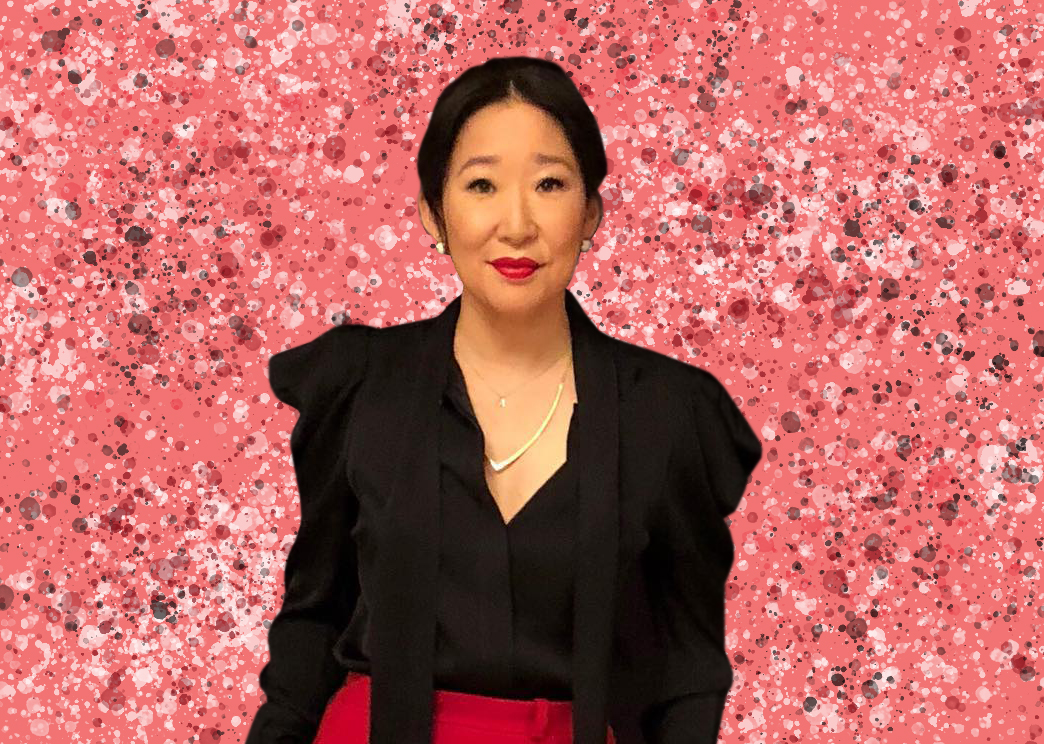 In the spy drama Killing Eve, protagonist Eve Polastri is first introduced screaming, terror-stricken, in her sleep. Alarmed, her husband frantically shakes her awake; when Eve reaches consciousness, she says nonchalantly, "I fell asleep on both my arms." This brilliant juxtaposition of suspense and deadpan humor thus lays the foundation for the rest of Killing Eve. Hailed as BBC America's breakout drama, Killing Eve follows MI5 agent-turned-rogue spy Eve as she hunts down the elusive assassin Villanelle. Led by the inimitable Sandra Oh, the series is a classic cat-and-mouse thriller—coated with a less conventional veneer of humor.
Oh's performance as Eve recently garnered her a historic Emmy nomination for Outstanding Lead Actress in a Drama, which makes her the first Asian actress to be nominated for a lead role. The significance is not lost on me. Cast in supporting roles for most of her distinguished career, the Korean Canadian actress gained cult prominence in Shonda Rhimes' hit Grey's Anatomy as Cristina Yang, a character whose ambition was often conflated with "aggression" in critical analysis. She also starred in films like Catfight, Under the Tuscan Sun, and The Princess Diaries, creating memorable supporting personas against her white lead counterparts. Following her Emmy nomination, one thing is clear: Oh is worth much more than a supporting role, and Killing Eve is much more than a spy thriller.
With her role in the groundbreaking series, Oh dismantles Hollywood's longstanding Asian narrative, one that relegates Asians in pop culture to specific supporting roles: martial artist, computer geek, doctor. Despite its European backdrop, Killing Eve puts Oh front and center without the routine tropes. A multifaceted character, Eve is complex, witty, and intelligent—much like film personas taken on by the Jennifer Garners or Natalie Portmans of Hollywood. At a time when Asian roles are often racialized side-notes, Eve unabashedly unbinds from common restraints without explanation. She surprises colleagues with her German fluency. Waltzes in late to a murder briefing and loudly fumbles with her croissant. Possesses a strange obsession with female assassins. And her sexuality is ambiguous, because human sexuality itself is fluid.
In pop culture, diverse Asian representation is rare.
Oh has brought the lack of substantial roles for Asian actors to light before. In her Vanity Fair interview, titled "Sandra Oh's Been Waiting 30 Years for a Show Like Killing Eve," Oh discussed letting go of expectations. She said, "That's where I'm at. I can talk about the things that didn't come my way that I think should come my way, but it's just like—it's a fuckin' waste of time."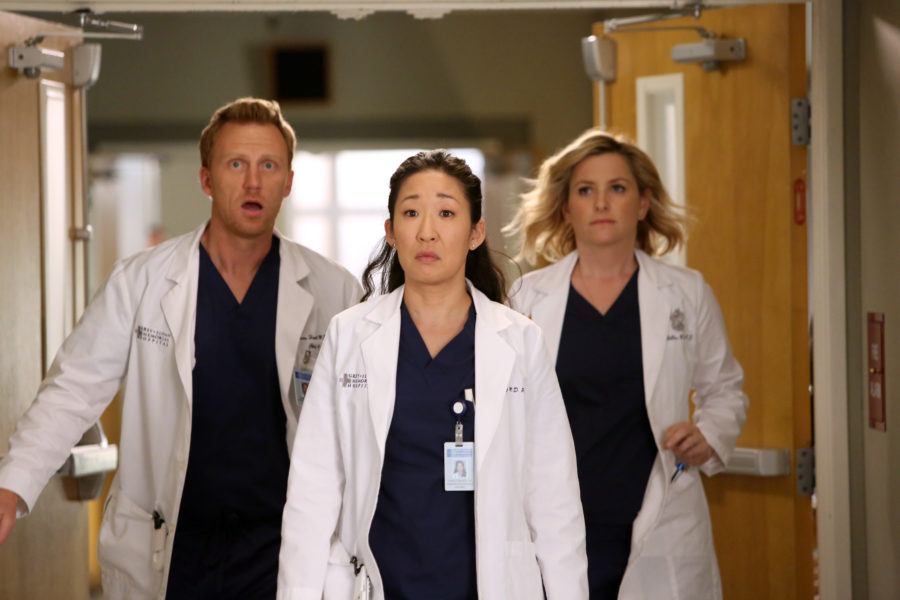 But perhaps most heartbreaking are her revelations of internalized racism. In her Vulture interview, Oh revealed she didn't understand she was up for the lead role when presented with Killing Eve's script. She told Vulture:
She continued:
"In that moment, I did not assume the offer was for Eve. I think about that moment a lot. Of just going, how deep have I internalized this? [So] many years of being seen [a certain way], it deeply, deeply, deeply affects us. It's like, how does racism define your work? Oh my goodness, I didn't even assume when being offered something that I would be one of the central storytellers. Why? And this is me talking, right? After being told to see things a certain way for decades, you realize, 'Oh my god! They brainwashed me!' I was brainwashed! So that was a revelation to me."
With Killing Eve, the brainwashing has come to a veritable end. Oh's revelations even helped me uncover my own internalizations as an Asian American woman. In August of last year, the #FirstTimeISawMe hashtag sprung up on social media to highlight the importance of on-screen representation; the campaign illustrated the need for more diverse stories. Due to the void of Asian visibility in media, I had long normalized the assumption that my stories (and stories like mine) were unimportant. But for the first time in a long time, I could see myself in the fullest capacity. For the first time in a long time, I could see myself as the strong, multi-dimensional female lead with amazing, unruly hair.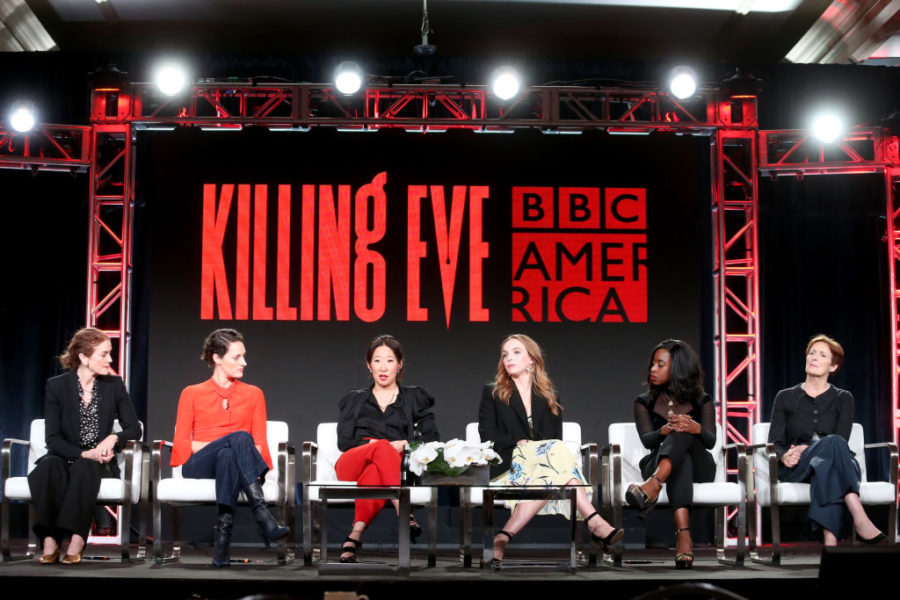 Beyond the role of Eve, the series itself is also largely feminist. While the spy genre is saturated by white men, Killing Eve is very much women-led.
Jodie Comer stars opposite Oh as Russian assassin Villanelle, whose captivating brilliance and wit distracts from her antagonism. At the beginning of Season 1's finale, she engages in a hilarious screaming match with Irina, the teenage daughter of her boss Konstantin, whom she kidnaps after he escapes her attempts to kill him. As it turns out, Irina's irritation stems from hunger (she screams "I'm hungry!" as if bantering with an older sister rather than an assassin); they both end up at a bench eating burgers. Comer's blend of callousness and humor is bewitching and thrilling to watch.
The series also stars Fiona Shaw as agent Carolyn Martens, who enlists Eve to hunt down Villanelle. Known for her role as Petunia Dursley in the Harry Potter series, Shaw plays a fairly serious character who delivers brilliant deadpan one-liners. In a scene where she brings Eve to her new office, she stops at the door and dryly says, "I once saw a rat drink from a can of Coke there. Both hands. Extraordinary." The dynamic among these women is what makes Killing Eve so compelling. 
Eve's enigmatic relationship with Villanelle diverges from usual spy tropes without the "oriental" sexualization often imposed on Asian women.
At the end of the Season 1 finale, Eve successfully tracks down Villanelle's apartment. Villanelle isn't home, so Eve takes it upon herself to explore the space of the woman who has taken up so much of her consciousness. Her fridge is filled solely with rows of champagne bottles. In a fit of exhausted rage, Eve smashes every single bottle onto the hardwood floor and leaves the rest of the decadent Parisian apartment in disarray. Perhaps, just perhaps, the finale (appropriately titled "God, I'm Tired") can be seen as metaphorical for Asian Americans looking from the outside in: Eve's catharsis comes from smashing literal pieces of her tormentor's possessions. Ours comes from the Asian representation ceiling being smashed with a character like Eve.