How Sandra Day O'Connor paved the way for women everywhere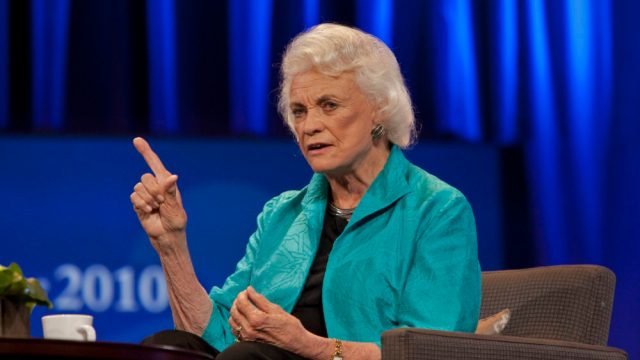 Like every other facet of American government, sexism has long plagued the Supreme Court, and it wasn't until 1981 that the first female justice, Sandra Day O'Connor, was appointed. O'Connor retired from the court in 2006, but her appointment paved the way for Justices Ruth Bader Ginsburg, Elena Kagan, and Sonia Sotomayor. And according to NPR, O'Connor announced today, October 23rd, that she has been diagnosed with dementia and will retire from public life.
O'Connor's announcement comes 12 years after she left her position on the Supreme Court to care for her husband, John, who had recently been diagnosed with Alzheimer's Disease. The former associate justice wrote in a letter released by the Supreme Court public information office that she had been diagnosed "some time ago" and that the disease had progressed enough that she felt she was unable to participate in public life, including her work on the interactive civics learning site iCivics.
In 1981, O'Connor made history when she became the first woman appointed to the Supreme Court. But according to her biography on the Sandra Day O'Connor Institute website, she had to overcome years of discrimination to join the highest court in the country. After graduating from Stanford with a law degree in 1952, O'Connor struggled to find work as an attorney because of the sexist attitudes of the time. When she did finally find a position that matched her skills, she volunteered to work for no pay.
She would go on to become an assistant attorney general for the state of Arizona, and later, she was elected to the Arizona State Senate. During her tenure as a state legislator, she became the first woman to serve as Republican majority leader in a State Senate. O'Connor was eventually appointed to the Arizona Court of Appeals and later helped found the National Association of Women Judges.
During her 25 years on the Supreme Court, O'Connor was instrumental in several historic decisions. As CNN notes, in 1982, she was one of the 5-4 majority ruling that a Mississippi university's women's-only nursing school was unconstitutional. In her opinion, she argued that only enrolling women "tends to perpetuate the stereotyped view of nursing as an exclusively women's job."
In 2000, she voted with the majority in a 5-4 decision that overturned a Nebraska ban on dilation and extraction abortions, which are considered late-term abortions. And the American Civil Liberties Union notes that she was the deciding vote in court decisions to uphold affirmative action in college admissions, require courtrooms to be accessible to the disabled, and allow the Environmental Protection Agency to step in and reduce air pollution when a state fails to do so.
O'Connor's legacy will live on for generations to come. Our thoughts are with her and her loved ones during this time.