Cate Blanchett said she and Sandra Bullock get "penis facials," and we have questions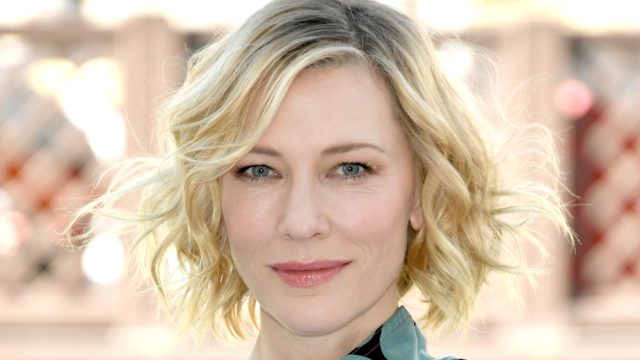 It's no secret that we love looking to our favorite celebrities for skin care tips. After all, when you've got access to the best beauty experts, makeup artists, and products in the world, you probably know a thing or two about the most innovative ways to get that glow. And Cate Blanchett just revealed an, um, unconventionalfacial she and friend/Ocean's 8 costar Sandra Bullock both get. They call it the "penis facial," and we have so many questions.
In an interview with Vogue Australia, Blanchett shared that she and Bullock loved going for facials while filming Ocean's 8 in NYC last summer. While that seems like a perfectly normal way to spend downtime on a movie set, she also revealed that their favorite facial involves an enzyme sourced from the foreskin of newborn babies in Korea. We'll let that sink in for a moment…
"Sandy Bullock and I saw this facialist in New York, Georgia Louise," she said, "and she gives what we call the penis facial and it's something — I don't know what it is, or whether it's just 'cause it smells a bit like sperm — there's some enzyme in it so Sandy refers to it as the penis facial."
Okay, before you start totally freaking out, the facial in question is actually called the Hollywood EGF Facial, and the EGF stands for Epidermal Growth Factor. According to Louise's website, the treatment involves a "secret" serum which features cells taken from the foreskin of newborn babies from Korea, helping to generate collagen and elastin.
The skin is prepped to receive the cells by way of a "special electric micro- needling wand," which allows "the active ingredients to be transported deep in the skin by creating a temporary micro-channel." Oh, and there's also an "electrifying mask" involved, which reportedly calms the skin.
And even though no babies are harmed in any way during the cell-harvesting process, some claim that collecting cells from children who cannot give their consent is unethical (Oprah received flack for endorsing an EGF-based skincare line several years back).
If you're reading this and wondering how, exactly, you too can get the cells of newborn baby foreskin onto your face, we're sorry to say it's going to cost you — the facial reportedly costs a whopping $650, and there's a two-year-long waiting list for an appointment with Louise.
HOWEVER, you can purchase a barley-based EGF serum from the skincare company BioEffect for $140, which, while not cheap, is definitely more affordable for us regular ol' skincare enthusiasts.