Same-sex marriage by country: All the places where gay marriage is now legal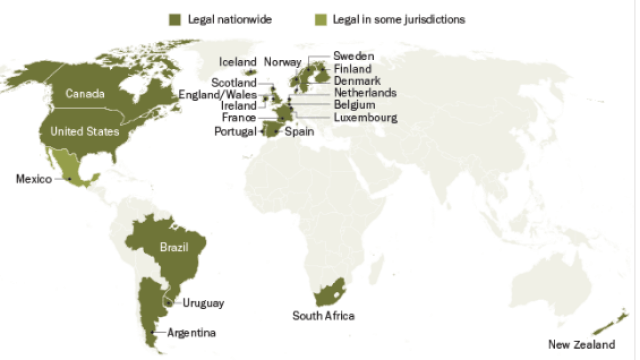 Australia voted today, December 7th, to legalize same-sex marriage, joining several other countries who have done the same, including the U.S. Let's take a look at the legalization of gay marriage around the world.
The first
The Netherlands was the first country to enact marriage equality, passing its law in 2000. The first gay marriages in the world occurred on April 1st, 2001, about a year after the law passed. While the Dutch law allowed same-sex couples to adopt children after co-habitating for three years, they could not adopt children from other countries. Additionally, only Dutch citizens or those whose partner was Dutch could get married under the original law.
The U.K. and Ireland
Queen Elizabeth approved a law legalizing gay marriage in England and Wales back in 2013. At the time, the bill required religious organizations to request the ability to offer weddings. Scotland didn't legalize marriage equality until 2014. Although all three nations are technically part of the same country, the U.K., Scotland and Northern Ireland have their own parliaments and function semi-autonomously. Same-sex marriage is still illegal in Northern Ireland.
The Republic of Ireland legalized gay marriage in 2015.
This year
Germany and Malta legalized gay marriage in 2017, shortly before Australia did. Malta passed its law in July 2017 despite opposition from the Catholic Church. Germany approved gay marriage at the end of June, and the country's first gay wedding took place on October 1st.
Other countries
Overall, including Australia, 26 countries have legalized same-sex marriage. The countries are mostly concentrated in Europe and North and South America. Australia, New Zealand, and South Africa are exceptions to this pattern. Mexico has allowed same-sex marriages in parts of the country since 2009.
With more and more countries passing same-sex marriage legislation each year, total marriage equality looks promising. We still have a long way to go, though. It's important that we continue to fight for LGBTQ rights and help organizations that do the same. We hope that marriage equality will soon become law for all people.