Here are all the states that have same-day voter registration for last-minute voters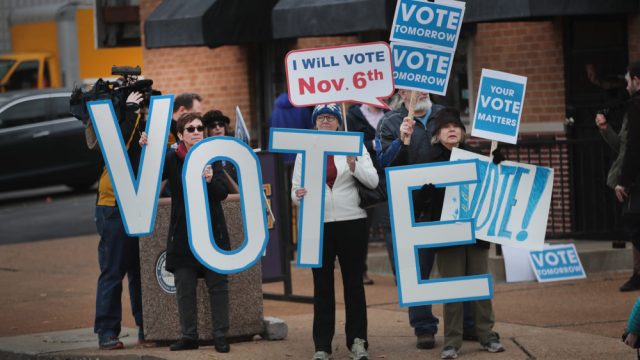 After months of campaigning, the 2018 midterm elections are finally happening tomorrow, November 6th. This year's midterms are a crucial opportunity to make your voice heard and shift the political makeup of Congress, so voting is extremely important. And even though it may seem too late to register to vote, if you live in a state with same-day voter registration, you can still participate in this election even if you're not yet registered.
According to the National Conference of State Legislatures, 15 states and the District of Columbia allow voters to register to vote on election day. Each state that currently allows same-day registration has its own requirements and regulations. Most ask would-be voters to provide identification or proof of residency (or both). And not all states allow same-day voter registration at polling places; some require you to register at a different location. If you want to register to vote on election day, be sure to check with the NCSL or your state's election office for more information.
Here are the states that allow same-day voter registration on election day:
1 California
2 Colorado
3 Connecticut
4 District of Columbia
5 Hawaii
6 Idaho
7 Illinois
https://twitter.com/udfredirect/status/1059533308537831428
8 Iowa
9 Maine
10 Minnesota
11 Montana
12 New Hampshire
13 Utah
14 Vermont
15 Wisconsin
16 Wyoming
false
Can't remember if you're registered to vote?
Before you head to your polling place tomorrow, be sure to double-check your registration status online. Look up your state with the National Association of State Election Directors to find the link to check your registration with your state.
Voting is the best way to make your voice heard. And thanks to same-day voter registration, you still have a chance to cast your ballot. So if you haven't voted yet, be sure to do so tomorrow. It may not seem like much, but your vote can make a difference.