There are even more hints that a Samantha "Sex and the City" spin-off could be happening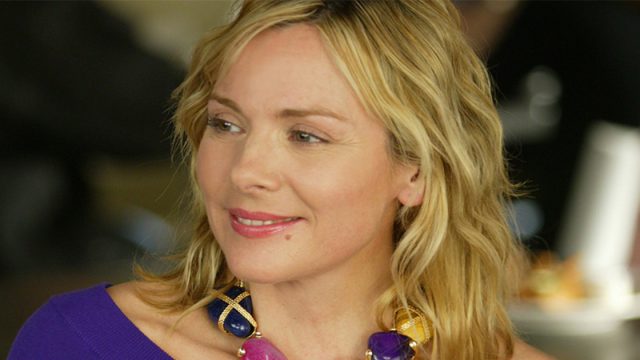 It's time to dust off our Manolo Blahniks and whip up some Cosmos, as more and more rumors of a Samantha Jones Sex and the City spin-off are circulating.
It was reported last month that Kim Cattrall had been hinting that a possible SatC spin-off was in the works. Of course, news of a new Sex and the City movie or series have been circulating since the second film in the popular franchise. However, it's never been 100% confirmation, despite cast members like Kristin Davis claiming that there are more stories to tell about our fave four Manhattan girls.
While a spin-off about Samantha isn't *quite* the reunion we'd been hoping for, it's definitely something that we're on board with.
The 60-year-old star previously took to Twitter, sort of confirming that a possible spin-off was in the works.
The star also responded to a fan, who also put two and two together that a Samantha show could be coming. false
Well, now Kim Cattrall has been teasing EVEN more things on social media and we can't actually handle it.
As Harpers Bazaar report, Cattrall teased fans by sharing a couple of behind the scenes pictures from what looks like either a photoshoot or a film set. What's more, she gave the pictures a intriguing caption…
"My 1st Boomerang, Honey!" she wrote. "Channeling Ms Samantha Jones once again .....[sic]."
From the stunning ring, the leopard print shirt, those blue earrings and the perfectly coifed hair, everything about this pictures SCREAMS Samantha Jones, right?
Cattrall's makeup artist, Nick Barose, also shared a picture on to Instagram with an even more cryptic caption.
"Reunited @kimcattrall ???????? #SecretProject ✨✨✨✨," his emoji laden caption read.
We have to say, Kim is looking absolutely STUNNING, and whatever it is she's working on we're all ears. Whether she is indeed working on a Samantha Jones spin-off of Sex and the City or, perhaps, another show where she plays a similar character, or maybe just another TV show, we're totally here for more Kim Cattrall in our lives.