Surprise! Sam Hunt has a fiancée — and the song he wrote for her is #couplegoals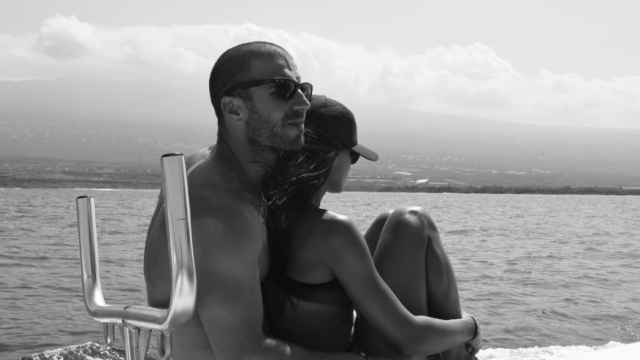 Our dearly departed 2016 brought a whole lot of heartbreak to a whole lot of people. But not to Sam Hunt, who became engaged to Hannah Lee Fowler and celebrated this milestone the best way he knows how … with a gorgeous country song that is actually a heartbreaking apology for Fowler having to grapple with his fame, of course!
Hunt's surprise engagement was confirmed to PEOPLE on January 2nd, though signs that the two had gotten really, really serious became clear when he released his new song "Drinkin' Too Much," which details the couple's ups and downs, midnight on New Year's Eve.
"I'm sorry I named the album Montevallo / I'm sorry people know your name now and strangers hit you up on social media / I'm sorry you can't listen to the radio / And drive out to the place we used to get peaches down in Pelham," Hunt sings. "I know you want your privacy / You've got nothing to say to me / But I wish you'd let me pay off your student loans with these songs you gave to me."
https://www.instagram.com/p/BOtgKEvDX1f
"These songs you gave to me" refer to his Montevallo album, which propelled Hunt to country stardom in 2014. Hunt told E! back in 2014 that he named his debut after a girl he met in the Alabama town, saying,
"I had never visited Montevallo, but right before I left to go to Nashville I met a girl from there. A lot of the experiences I had with her and the relationship I had with her, that inspired a lot of the songwriting on the album."
Apparently things went south after Hunt got famous, as "Drinkin' Too Much" chronicles Fowler dumping him due the pitfalls of fame and alcohol abuse. She took him back, obviously, and the song ends on a hopeful note as Hunt sings "You changed your number and moved and this is the only way I can reach you … Hannah Lee, I'm on my way to you / Nobody can love you like I do."
Based on Hunt's Instagram account, he's right — the couple is seriously adorable.
https://www.instagram.com/p/BMKSjlRDPrj
And even though Fowler herself doesn't appear to have an Instagram of her own, her sister sure does, and she posted a sweet tribute to the couple after their news went public.
https://www.instagram.com/p/BOvbxSHjlvp
She can also be found on Hunt's Insta, of course, doing rad things like vacationing with the country crooner in exotic locales.
https://www.instagram.com/p/BDWRl­RGaE2
It seems overall like Fowler is someone who values her privacy — though thanks to her sister, we learned that she is a nurse (rad) who loves working out (also rad) and eating entire pies (very, very rad).
https://www.instagram.com/p/BMEdwUwD1SD
Congrats to the happy couple … just make sure to respect their wishes and not hit up Fowler on social media.