"Sam & Cat's" Jennette McCurdy just proved she's not feuding with Ariana Grande in a single Snapchat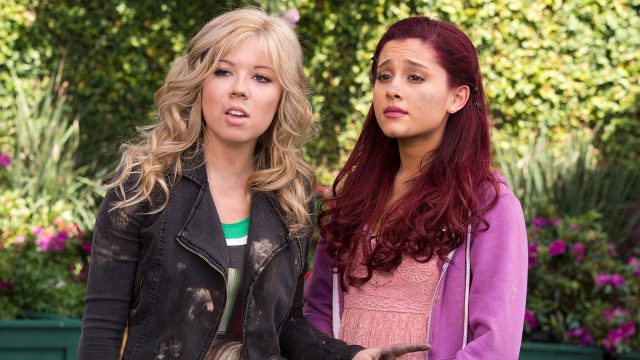 Jennette McCurdy and Ariana Grande have been in a speculated feud ever since Sam & Cat was unexpectedly cancelled back in 2014, after one successful season.
The rumors weren't completely unwarranted, though.
Shortly after the show's cancellation, McCurdy posted a somewhat cryptic message on TwitLonger about being "put in an uncomfortable, compromising, unfair situation," and because of that, she decided to stick up for what is right and fair.
Many fans took her message as confirmation that Grande was getting paid more, a rumor Grande vehemently denied.
"Jennette and I agreed upfront that we would be treated equally on this show in all regards (as we should be, considering we each work just as hard as the other on this show)," Grande wrote on Facebook. "The rumors circulating about our contracts and our salary not being equal are absolutely ridiculous and false."
And then Grande wrote a goodbye letter thanking her fans, Nickelodeon, and her team for all of their support on Sam & Cat. She happened to leave McCurdy out of the letter — making rumors fly once again that there's some major beef between the co-stars.
Whether or not the rumors were true, any sort of feud between the Grande and McCurdy seems to be a thing of the past.
At least we're led to believe that based on the super fun Snapchat McCurdy posted of herself singing Grande's song "Into You" with pal Colton Tran.
McCurdy may not know all the words to the song, but we hope the sentiment is appreciated by Grande nonetheless. Because Sam & Cat forever. ?