In honor of Salvador Dalí's birthday, we look back on the artist's most epic collabs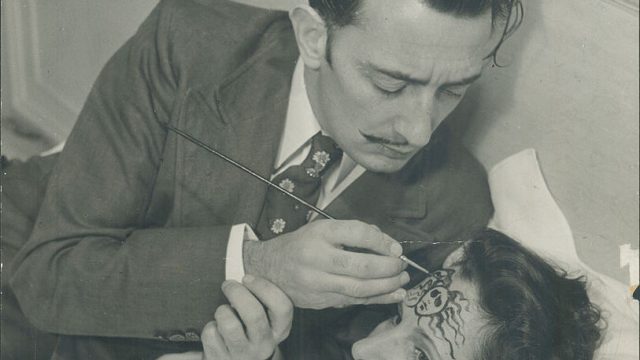 Whether or not you're an art nerd, you've probably heard of Salvador Dalí. The Spanish artist, who was born on May 11th, 1904, is most famous for his surreal landscapes — which included everything from melting clocks to shapeshifting worlds. Dalí was a little bit of everything: a painter, sculptor, filmmaker, and one of the first performance artists in history. He's created everything from lobster clocks to lobster dresses, and was responsible for bringing the surrealism of the French to the masses.
Through his work in fashion, art, and even food, Dalí made a name for himself that has lasted well past his death in 1989. In honor of the icon's birthday, we've rounded up six of his most iconic collaborations, from fashion to film. Welcome to the wonderful world of Dalí.
1That one time he made a movie with Walt Disney.
https://www.youtube.com/watch?v=BO8ffgDbM80?feature=oembed
If you want to watch something visually overwhelming, entrancing, and of course, trippy, then leave it to Disney and Dalí to blow your mind. Back in 1946, Dalí signed a contract to put out a film with Disney, but the short wasn't completed until 58 years later.
Released in 2003, Destino chronicles the relationship of a woman and Chronos, the personification of time. Dalí described the film to press as "a magical exposition of the problem of life in the labyrinth of time," and he spent three months working eight hours a day on the film. The project, unfortunately, never came to fruition in either Dalí or Disney's lifetime. Instead, it was finished posthumously by a team of animators and a director in France.
2When he did a dream sequence for Hitchcock,
https://www.youtube.com/watch?v=JyPe1Jahyfo?feature=oembed
In a Hitchcock movie about psychoanalysis, it makes sense to have a trippy, otherworldly dream sequence thrown in, right? And who better to work with the master of suspense than the master of surrealism? Dalí was enlisted to help create the stunning scene above, and the results are nothing short of huh?! Even if you didn't know Dalí was responsible for this magic, it only takes one watch to realize that, of course he is!
The scene is described as…
"a gambling house, but there weren't any walls, just a lot of curtains with eyes painted on them. A man was walking around with a large pair of scissors, cutting all the drapes in half. And then a girl came in with hardly anything on and started walking around the gambling room, kissing everybody."
If that's not Dalí as hell, then we're not sure what is.
3His work with Schiaparelli.
Dalí wasn't just a painter; he was an artist, dabbling in anything and everything creative, not excluding fashion. And in one of the most epic and legendary collaborations of all time, Dalí teamed up with legendary designer Elsa Schiaparelli. The duo created some incredible clothing, but the most notable of all happened in 1937, when they created the lobster dress. Yes, like Dalí's classic lobster phone, but on a dress. The simple white dress featured a crimson lobster painted on the skirt by Dalí, and it's the most famous garment that the duo created.
4When Dalí designed a ballet.
Dalí was hired to design a set and costumes for Léonide Massine's one-act ballet Bacchanale, and the results are pretty damn Dalí. In his book The One and Only: The Ballet Russe De Monte Carlo, Jack Anderson describes the scene of the ballet. He says,
"[T]here was a woman with a rose-colored fish-head. Lola Montez wore harem trousers and a hoop skirt covered in teeth. The Knight of Death turned out to be an immense perambulating umbrella ... Prudish audiences blushed to behold the male ensemble with large red lobsters (as sex symbols) on their thighs, and Nini Theilade, portraying Venus, created a sensation because she seemed totally nude. In actuality, she wore flesh-colored tights from her neck to her toes.
This was the first of nine ballets to be produced by Dalí, and his first working with Les Ballets Russes de Monte Carlo.
5That one time he designed the logo for Chupa Chups.
Although the the Catalan lollipop has been around since 1958, it wasn't until over a decade later that the candy got the look we now recognize. The brand was the first to put a sweet on a stick, but it owes some of the credit to a special artist who helped to redesign the logo. And yes, of course we're talking about Dalí!
Dalí created the classic daisy logo we're familiar with today. He also advised that they put the logo at the top of the candy, so it could always be viewed intact. The logo has barely changed at all since the Dalí days.
6When he casually worked with Harper's Bazaar.
Dalí collaborated with Harper's Bazaar for an epic dose of fashion illustrations, which merged his infamous and surreal world with that of the elegant fashion industry. The results are both stunning and vaguely unnerving — something Dalí manages unlike most.
One such image features two elongated women wearing evening gowns — one with a mask of roses and a plaster girdle; the other looking off into the distance, with a girdle of coral surrounding her waist. Dalí even posed with his wife and muse Gala for the magazine, putting himself into the landscape he portrays.