Salma Hayek posted a TBT to that time she cooked Ryan Reynolds and Blake Lively dinner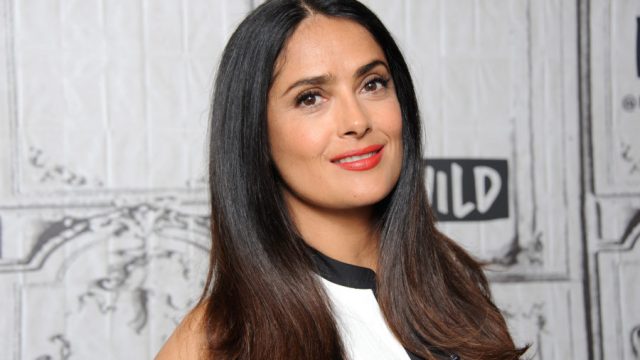 We all have that one friend who takes control of the kitchen as soon as they arrive for a dinner party. For Ryan Reynolds and Blake Lively, that friend is Salma Hayek. Hayek posted a #TBT to the time when she cooked dinner for the couple, and we want in on their next get-together.
Hayek donned an apron, stirred up something yummy in a big copper pot, all while bouncing baby Ines on her hip.
"When your friends invite you for dinner and you end up doing all the work."
Take note of Ryan Reynolds clapping in the background — he is all of us, TBH.
Hayek and Reynolds are costars in the upcoming film The Hitman's Bodygaurd. Hayek plays the wife of Samuel L. Jackson, the title hitman. Reynolds plays Jackson's bodyguard, who must do whatever he can to protect Jackson's life while transporting him to the International Court of Justice.
It looks like a thrilling action-comedy, and now we're also dying to see Hayek and Reynolds do their thang on the big screen.
When movie stars hang out with fellow movie stars and do normal things like cook dinner with aprons while holding babies, it makes us smile. There's just something super heartwarming about the fact that the glamorous humans we see on the big screen are just regular ol' friends IRL.
Also, Reynolds and Hayek families — if you're unsure where to host your next get-together, just give us a call and come on over. We make a killer macaroni and cheese.