Salma Hayek's take on florals for spring is groundbreaking in this feisty dress
Forget everything Miranda Priestly taught you, because there's a new fashionista in town making one hell of a case for ground-breaking florals for spring!
Salma Hayek effectively did what so many have tried (and failed) to do by bringing home a floral dress that *hasn't* been done a zillion times before. Stepping out at the How to be a Latin Lover premiere in Mexico City last night, the veteran red carpet queen donned a frilly Gucci frock. The midi number incorporated bright floral patches of pink, red and orange silk swatches, delicately embroidered with magenta lace. The vibrant number perfectly blended poise with a pinch of zesty flare, offsetting its ladylike silhouette with a plunging lace-up neckline.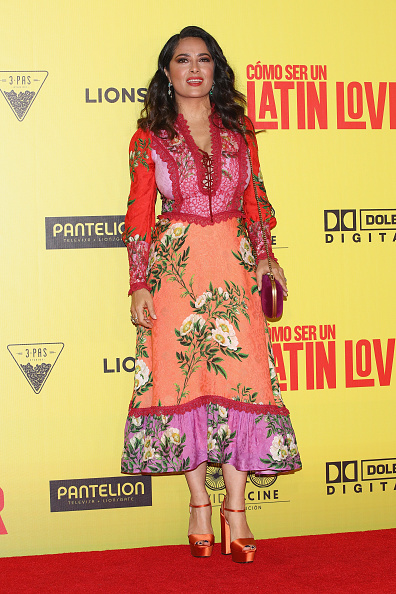 Just look at those Gucci blooms, and try to tell us they're ~not~ simply stunning and totally refreshing. You can't!
Oh, and how about those shiny tangerine platform heels? The citrusy shoes, also Gucci, are the perfect punctuation for the look. Also, they're about to become one of our summer shoe obsessions.
With her trusty glam squad by her side, Salma finished the look off with some flirty HAMU selections. She let her tousled tresses hang loose, and popped on a coral lip shade for a va-va-voom effect.
Okay, so we said it before, but we'll say it again: This floral look is ~anything~ but boring, and we just can't get enough of Salma's new twist on this classic spring trend!