Salma Hayek showed off a blonde bob at Paris Fashion Week, and the hairstyle totally suits her
While many fashion-week goers are busy debuting new outfits and cool street style looks for Paris Fashion Week, Salma Hayek decided to totally revamp her hair for the occasion. While attending Saturday morning's Altuzarra show, Hayek stepped out sporting a blonde bob hairstyle  — and looked like a total showstopper.
The 51-year-old actress has always looked great, but this new 'do totally transformed her appearance. Formerly, the star rocked long black locks, which made her decision to go blonde that much more drastic.
But before you freak out, let us unravel a bit of the mystery: This blonde bob is a wig, so the dark-haired Salma you know and love will soon return.
Back to her (temporary) new 'do: While getting her hair done, the actress took photos of herself before and after. On Instagram, Hayek posted the entirety of her transformation as her glam squad worked their magic. In captioning the post, she wrote, "The process. El proceso" to emphasize how much work went into her makeover. And quite the process it was!
Not only did her expert stylists turn her from a brunette to a sunny golden blonde with just a few pins and tucks, but they upped the ante by decking out Hayek in a blunt cut, medium-length bob wig that hit just above her collar bone, a drastic change from her usual long locks. Looking super chic and sophisticated with her new 'do, we'd say Hayek totally nailed her Paris Fashion Week look.
There you have it. Hayek's makeover (and stunning Instagram photos) taught us a few valuable lessons here. For one, when stepping out into a sea of fashion's best (aka, fashion week), it sometimes pays to totally revamp your look in order to stand out and turn a few heads. Secondly, it's important to take good care of your skin, 'cause the award-winning actress looks dayum good…and dare we say, ageless?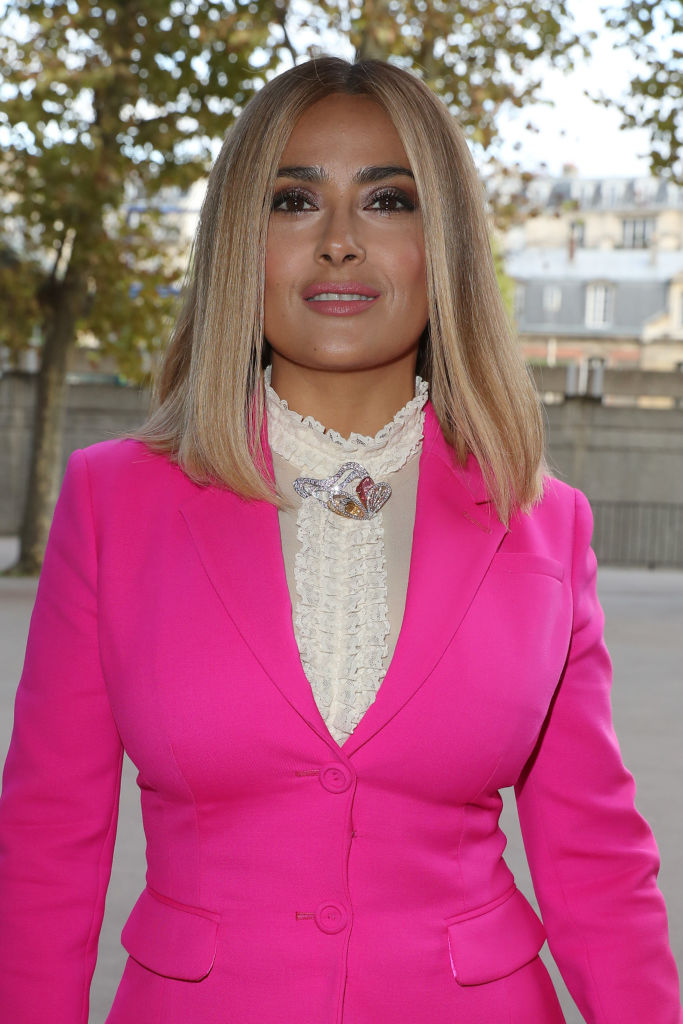 And finally, we can all take note of Hayek's selfie-taking skills because, clearly, girl's got that under control, too.