Sally Field surprised Stephen Colbert with a kiss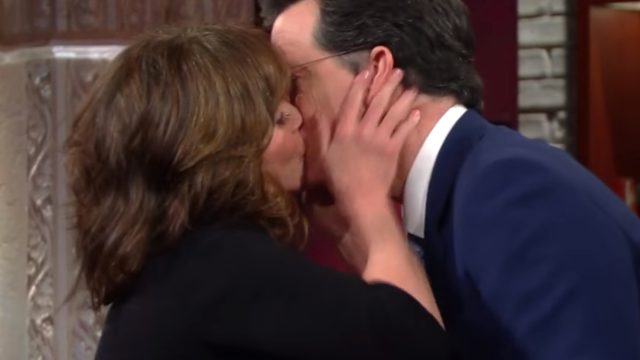 Is kissing Stephen Colbert going to become a new Late Show tradition? Because I'm sure he wouldn't complain. After Helen Mirren greeted Stephen with a passionate kiss during her appearance on Tuesday night, Sally Field decided to do the same on Wednesday. Just before the two sat down, she planted one right on the host, causing him to retreat behind his desk.
"I figure Helen did it, why can't I?" Sally said after the Stephen finally made it back into a sitting position.
"You won't get an argument from me," Stephen replied, going on to admit that Sally had been his celebrity crush growing up.
This whole moment is fitting, as Sally appeared on the show to chat about her new movie, Hello, My Name Is Doris, which is all about Sally's character lusting over a younger man.
"A pair of lips is a pair of lips," Sally jokes. "I've been kissing guys onscreen for the past 53 years of my life. What's the big deal?"
For Stephen, however, this was definitely a kiss to remember. We can't help but wonder who's next in the line of women to completely sweep him off his feet!