It's Sagittarius season, babes, so go ahead and roll the dice of life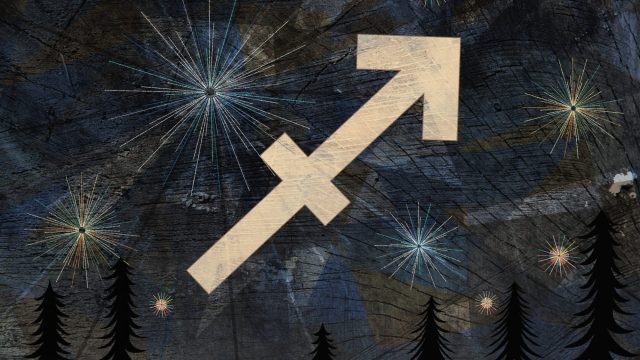 If you're wondering when the cosmos are going to give us a break and let the good times roll, then your wish is about to come true: From November 22nd to December 21st, we're in Sagittarius season. The happy-go-lucky Archer is ruled by Jupiter, the planet that rules luck and expansion, and also happens to be the largest planet in the solar system. Meaning? This is a season for luck, openness, and being bold AF. If you want to stand out from the crowd, now's your chance. Roll the dice of life, my friends, because the odds are in your favor that whatever it is you want, you'll get. Or, at least you'll have fun in the process.
If Scorpio season was about going deep and searching within and being all serious, Sag time is about seeking the light and exploring life from the outside while LOLing. Because Sagittarius is both one of most fun and funniest signs in the zodiac. They're always down for a good time, which explains why Sags are some of the most optimistic people you'll ever meet. No matter what life throws at them, they continue to see the glass half-full.
This is an excellent time to apply that same bright attitude towards your own life. If you're experiencing obstacles in any area of your life, how can you flip the script and see it as something positive? Can you allow yourself to see life working for you rather than against you? Can you trust that you're being taken care of? Because, lemme tell ya, a Sagittarius has more faith than George Michael. They believe in their heart of hearts they're born lucky and everything will work out for them, which, in turn, attracts more of those #goodvibes into their world. So take a page from their book, and start casting your wishes out to the Universe. Believe that your biggest desires can come true, and watch how that steadfast trust in yourself and the great beyond can help manifest your dreams faster.
Sagittarius is also a gregarious fire sign, so anyone born during this period says exactly what they mean—all the time. They have no filter. Like, zero. Which is why it's important to think before you speak during the next month or risk hurting others with your blunt delivery, even if you don't mean to. While being tactless might not work effectively in personal relationships, asking for what you want in the professional world is how you get to where you want to go, and a Sag, being both charming and cunning, knows this perfectly well.
You want to know who's a typical Sag? Taylor Swift. It's no surprise she has a massive record deal that not only brings her $$$ and even more power, but also ensures any money her new label earns through the sale of Spotify shares will be split among artists. Because that's the thing about Sag season: it's not just about fun and games, it's also about seeing the bigger picture and exploring how we can apply purpose and meaning to our lives while getting what's ours. What is your truth? How can you share your gifts and resources with the world for the greater good?
During Sag season, it's normal to explore new areas of study and training to expand your mind and life, not to mention expanding your world. As the quintessential globetrotter of the zodiac, a Sagittarius loves going on adventures. Don't be surprised if you catch a case of wanderlust and want to be anywhere but wherever you are. Travel somewhere different during this time, whether it's a new country, city, or even a different part of your neighborhood. Say yes to whatever is thrown at you, because you never know where you'll end up; since we're in Sagittarius season, chances are, you'll end up exactly where you need to be.
The most important thing to know about the Archer is this: They shoot for the stars and end up at the top of the world. Don't say I didn't warn you, bbs.