SAG-AFTRA announces sexual harassment code of conduct to combat industry inequities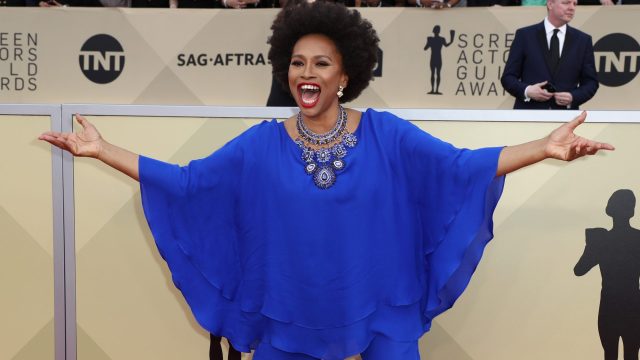 Sexual harassment happens in every workplace, and Hollywood's no exception. That's why SAG-AFTRA — the labor union representing actors, dancers, musicians, and other media professionals — is working on a sexual harassment code of conduct. The news came just days before the 24th annual Screen Actors Guild Awards on Sunday, January 21st.
The wave of survivors sharing their stories of sexual abuse and harassment has many asking for solutions, and SAG-AFTRA is trying to answer the call by providing guidance for its roughly 160,000 members. The union's code of conduct is being developed amid the #MeToo and #TimesUp movements, which seek to unify victims of sexual assault and curb systemic sexual harassment in Hollywood, respectively.
Soon after it was created, #TimesUp launched a fund to help women and other victims fight their abusers in court. Tons of celebs have donated, and many powerful women are publicly condemning perpetrators of sexual misconduct, including speeches at the 2018 Women's March.
SAG president Gabrielle Carteris and national executive director David White informed the union's national board of the pending code of conduct in a note last week, according to Variety. The message said the code of conduct will aim to empower union reps to help with issues that arise on set.
It's about time, y'all.
The policy will also "provide clear safety guidance to performers in the work environment and in social environments attached to work where harassment frequently occurs."
"As we approach the awards show weekend, we are receiving more questions about SAG-AFTRA's efforts to address the issue of harassment and inequity in our industry," Carteris said in a statement. "We welcome the attention and are thrilled with the forceful initiatives now underway to eradicate this terrible disease that is pervasive in our society and industry.
This is great news for an industry that has long struggled with a pervasive culture of sexual harassment in the workplace.
When the power is in the hands of the person who's mistreating you, it can be hard to get help. Having a formal code of conduct at work when it comes to issues like this is important. Hopefully, it will empower more women and men to speak up without fear of retribution.
And that's a really, really good thing.