Here are the best red carpet looks at the 2020 SAG Awards, including Sophie Turner's modern Barbie dress
Chrissy Teigen may have joked that the busy awards season meant that everyone had to wear their third favorite dress to the 2020 Screen Actors Guild Awards, but if these are everyone's third faves, we need to see their top two. Because we'll say it: The fashion was so on point on the 2020 SAG Awards red carpet, and it's starting some huge new trends.
Black-and-white was the color combo of the moment, and many stars even went for an all-black look for their red carpet looks. But that didn't mean it was boring! Voluminous silhouettes, bows, and jaw-dropping suits took styles to the next level. It wasn't all dark, either. Many celebs went for major pops of color, like hot pink, bright orange, and a return t0 the pink-and-red combo trend.
Another major trend? Belts were all the rage, adding a little something extra to the red carpet looks. Without further ado, we present our picks for the best red carpet looks at the 2020 SAG Awards. Spoiler: The Game of Thrones cast came to play.
Millie Bobby Brown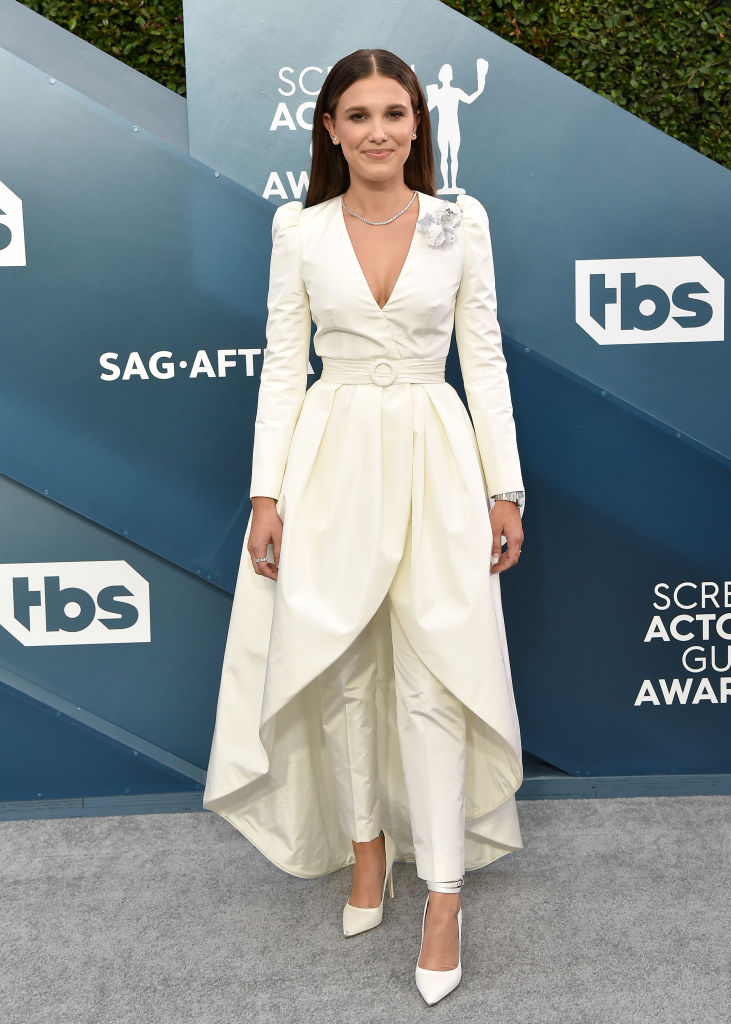 Millie Bobby Brown's monochrome white Louis Vuitton ensemble was a standout in the best way. The whiteout look paired a coat dress with pants and silver accents. We're basically in love.
Sophie Turner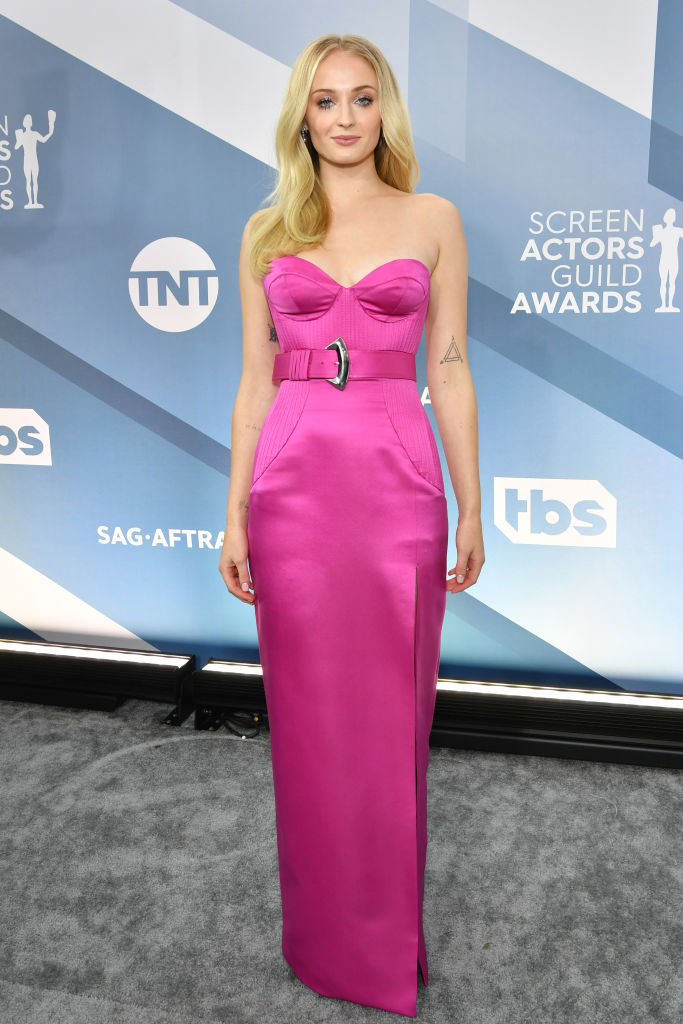 If you could take your eyes off her stunning, sky-high lashes, you'd fall for her modern-Barbie red carpet look. The color, the belt, the neckline—everything about Sophie Turner's Louis Vuitton dress was on point.
Jennifer Lopez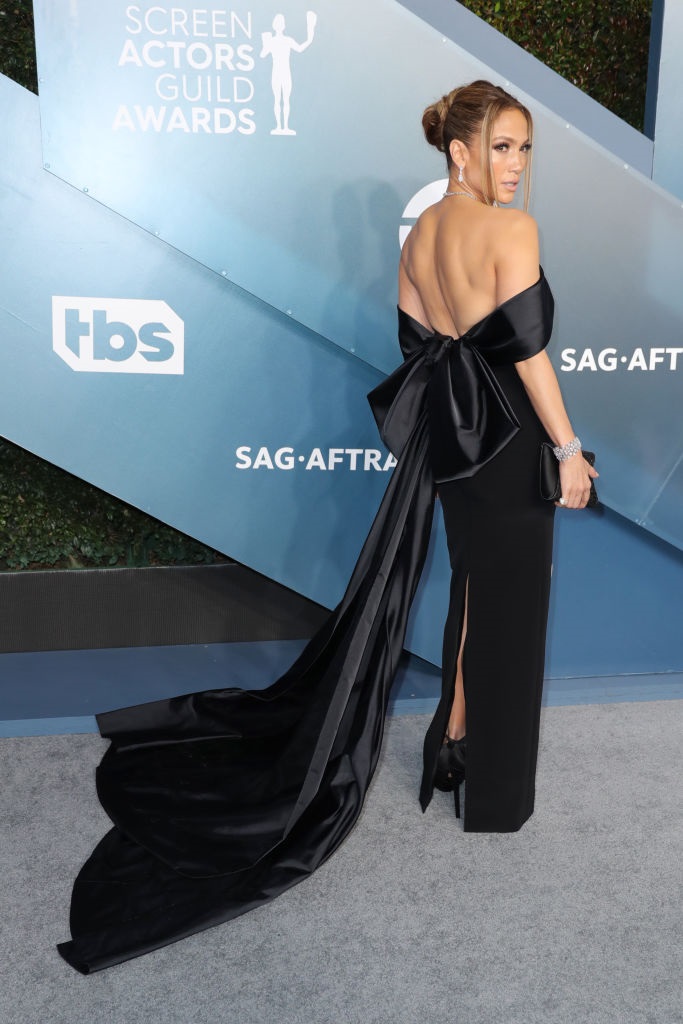 Jennifer Lopez brought the drama in her Valentino ball gown with the oversized bow and diamond accessories galore. She may not have won for Outstanding Performance by a Female Actor in a Supporting Role for Hustlers, but she won everyone's hearts on the red carpet.
Lupita Nyong'o
Lupita Nyong'o took the black-and-white trend to another level with her floral Louis Vuitton gown. The dress, her styling, and her whole beauty look is giving us Old Hollywood glamour.
Zoë Kravitz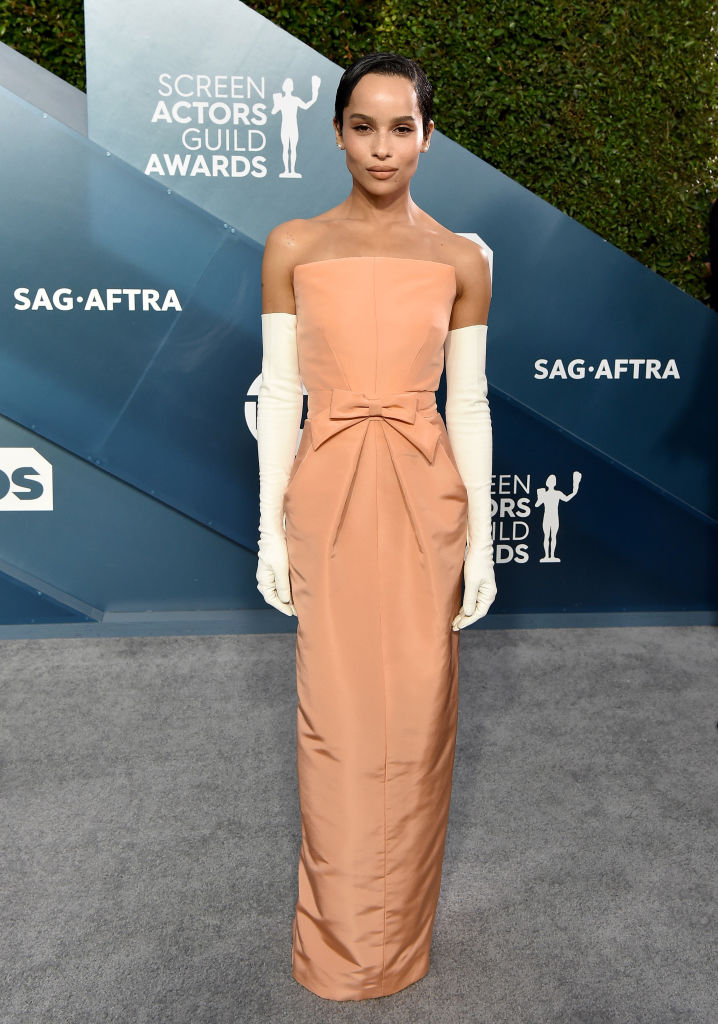 Audrey Hepburn, is that you? Maybe Zoë Kravitz was channeling Season 1 of Big Little Lies with her gloves and Oscar de la Renta gown that was retro and so modern at the same time. That peachy color? Stunning.
Gwendoline Christie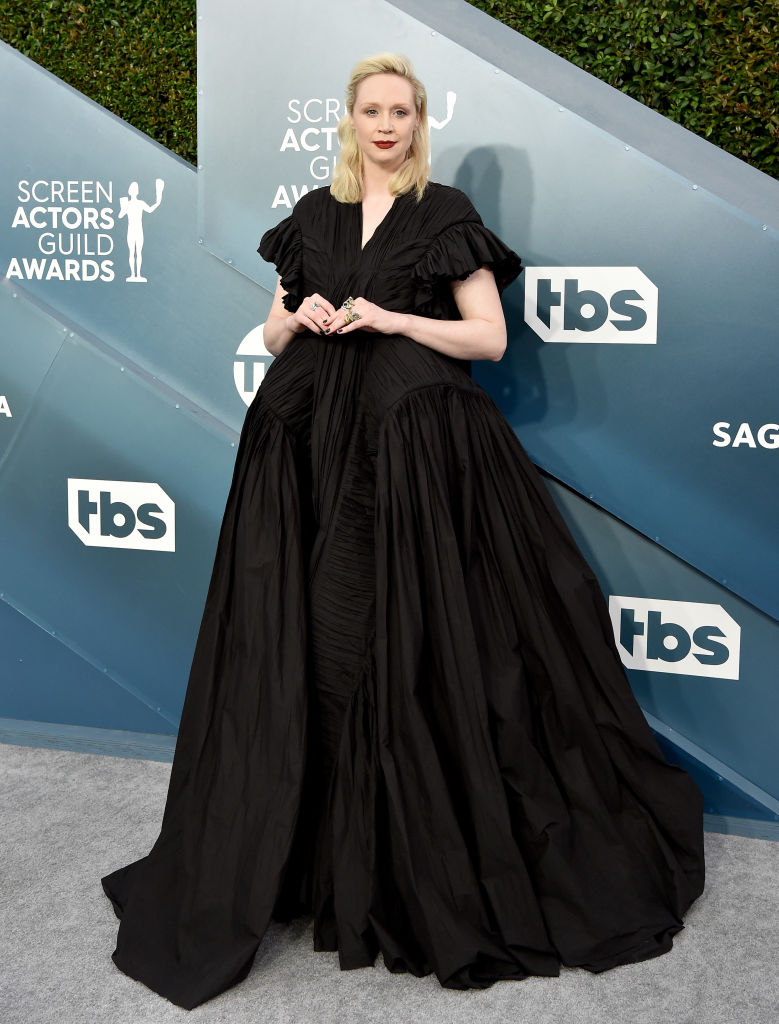 If you think black dresses are a snooze on the red carpet, just get one look at Gwendoline Christie's oversized Rick Owens gown and you'll change your mind. Of course, Brienne of Tarth could pull off that volume.
Charlize Theron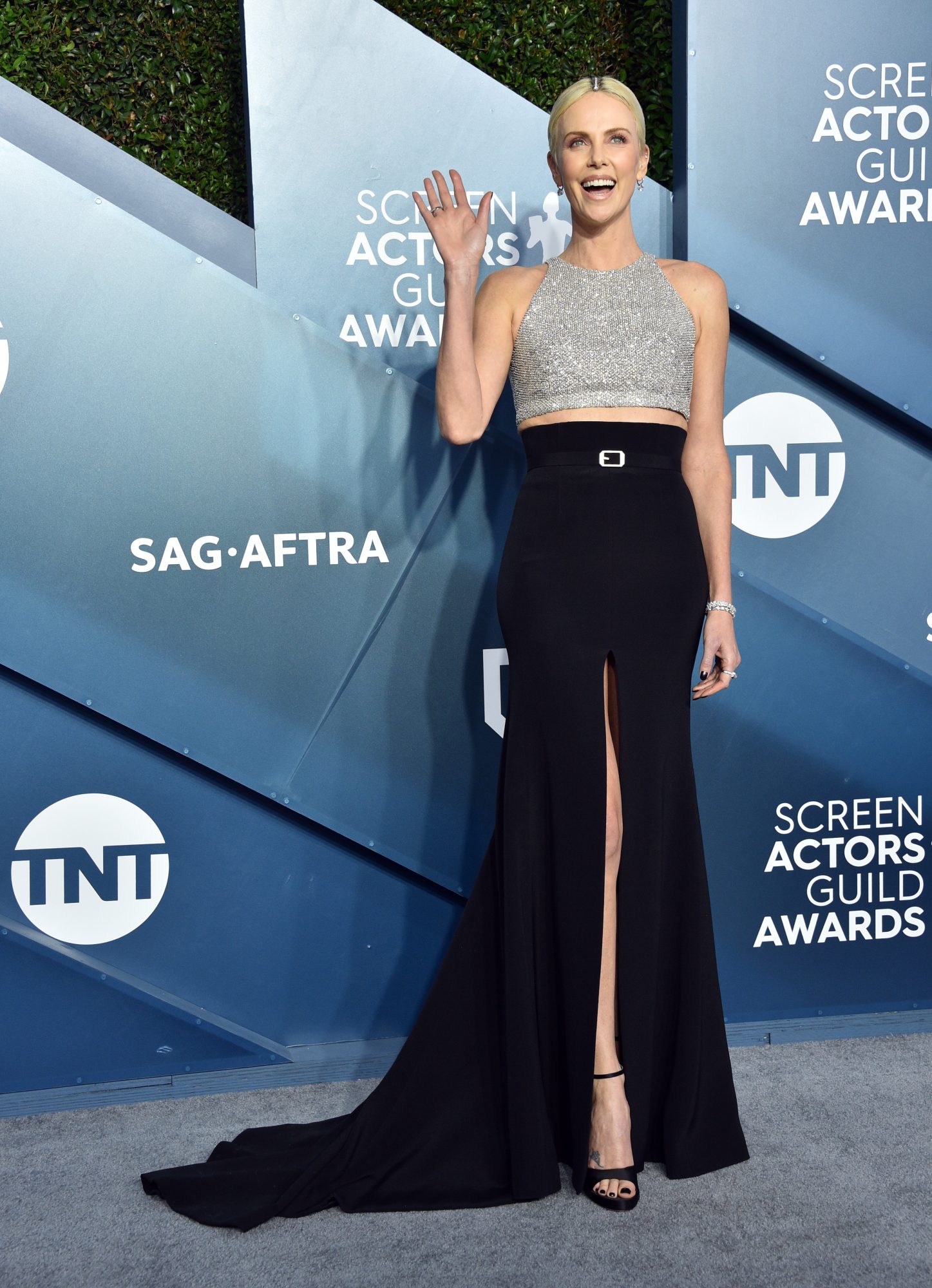 Charlize Theron's two-piece wonder from Givenchy brought the glitz. She rocked a shimmery crop top, silver belt, and even Tiffany diamonds to accent the part in her hair.
Nathalie Emmanuel
Between the floral print and the bow, we couldn't look away from Game of Thrones' Nathalie Emmanuel's red carpet gown by Miu Miu. It could have looked over-the-top, but her hairstyle and natural makeup (styled by Neeko for Dove Hair) made the perfect pairing.
Kathryn Newton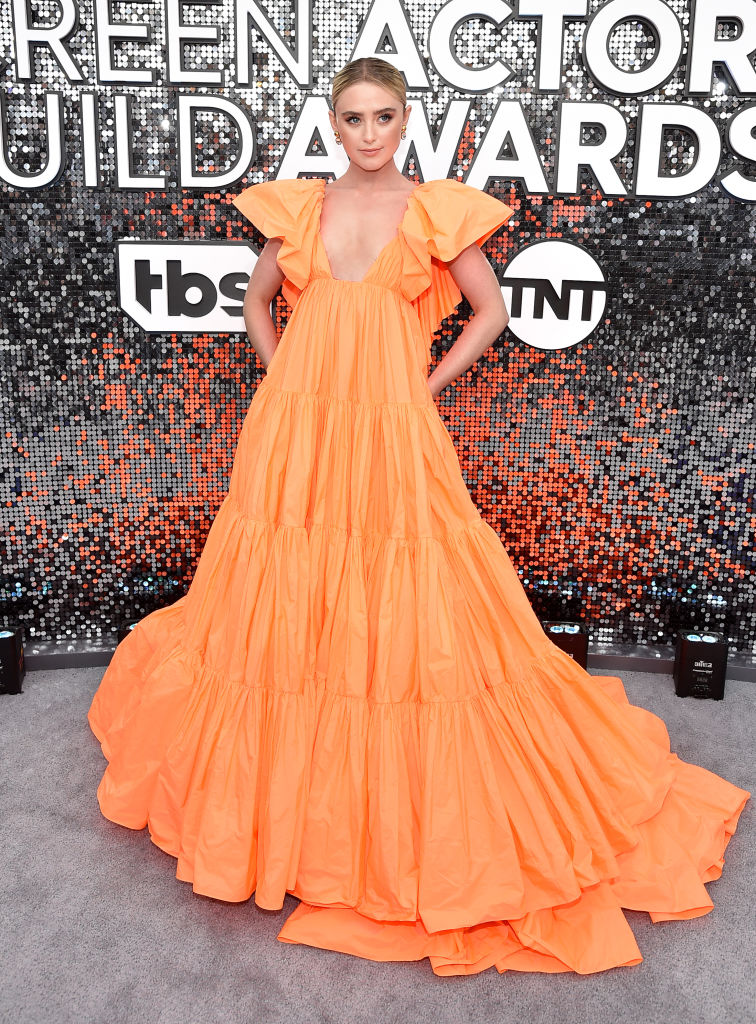 The Big Little Lies and The Society star Kathryn Newton wow-ed on the SAG red carpet with this orange, Valentino gown that she said made her feel like the sun. What we wouldn't give to twirl around in this one.
Margaret Qualley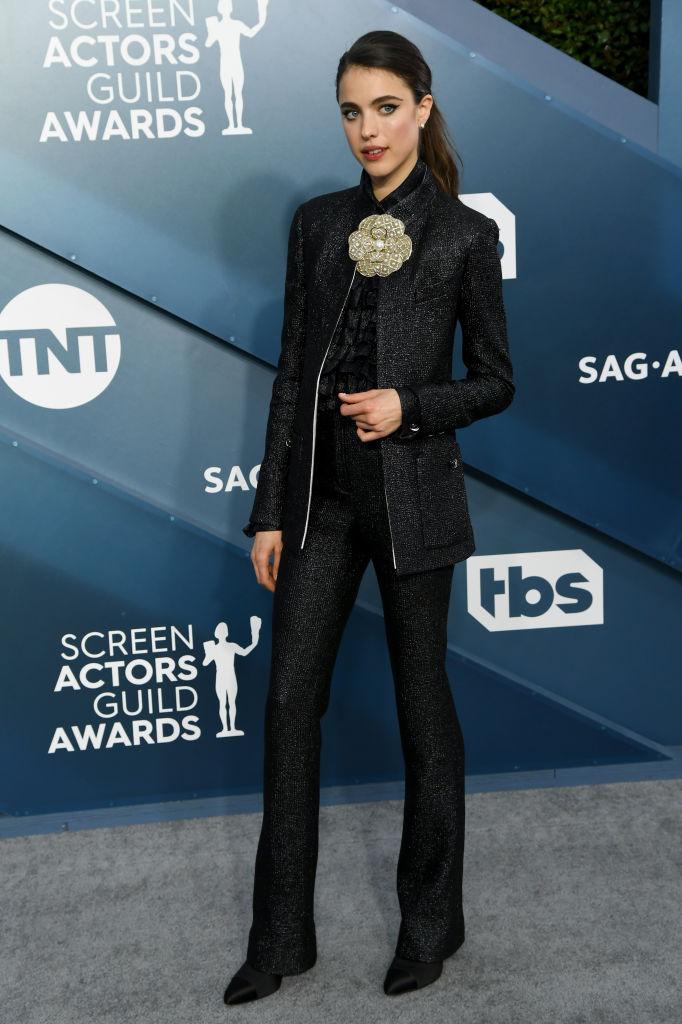 Yes, hello, we'd like to purchase Margaret Qualley's entire look so we can feel like a boss on the regular. The Once Upon a Time…in Hollywood and Fosse/Verdon actress glittered in her Chanel suit, and her ponytail was the perfect accent.
Cynthia Erivo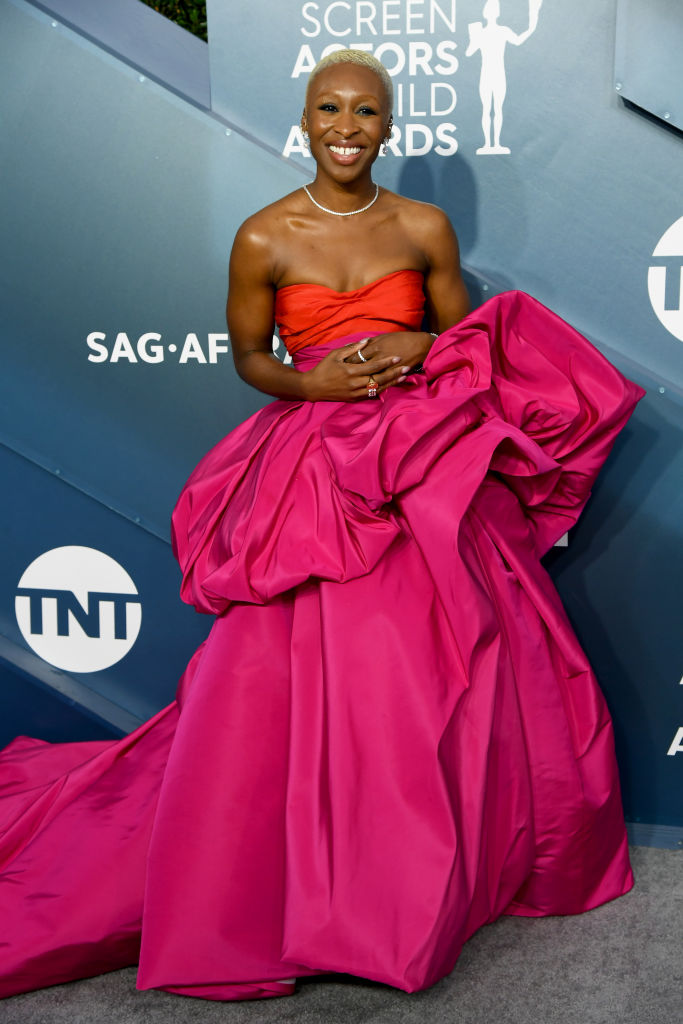 Cynthia Erivo (who is on her way to an EGOT) proved that red-and-pink is still the color-combo trend of the moment. This fun Schiaparelli gown livened up some of the neutral colors on the SAG silver carpet.
Lili Reinhart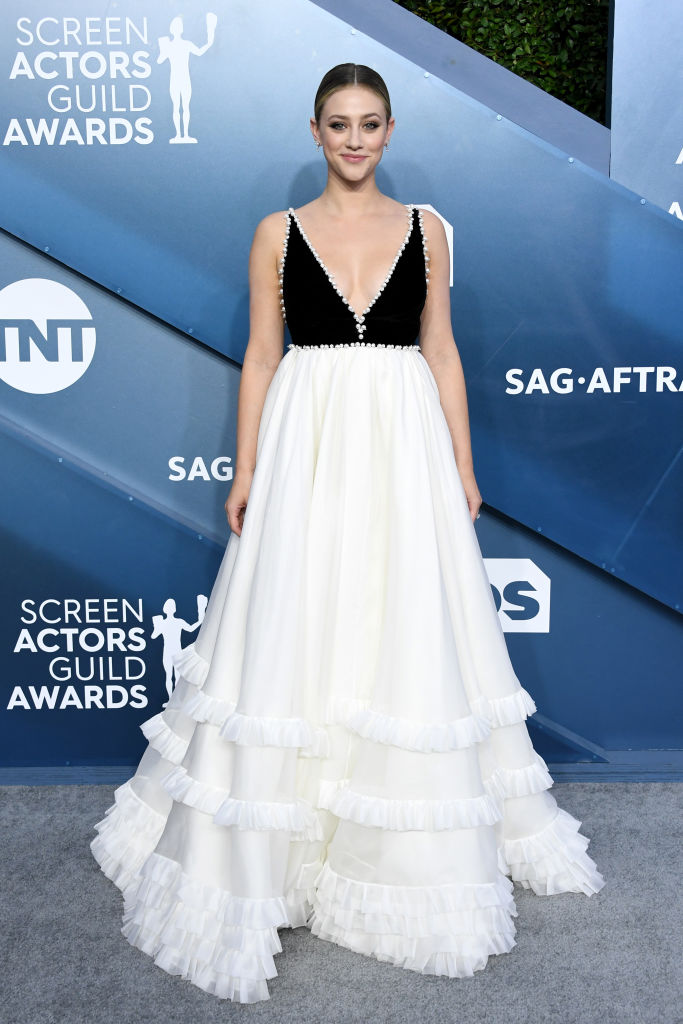 Lili Reinhart went with the black-and-white trend for the SAG Awards, and we are swooning over the romantic silhouette of her Miu Miu gown. She certainly made a statement in her first SAG Awards appearance ever.
Who were your picks for the best red carpet looks at the 2020 SAG Awards?