Here's everything you missed behind the scenes at the SAG Awards while obsessing about Jennifer Aniston and Brad Pitt
We get it. Before, during, immediately after, and now, days after the 2020 SAG Awards, we were all very busy obsessing over Jennifer Aniston and Brad Pitt's backstage reunion. Who wasn't, right? Well, now that the dust has settled, we have the emotional space to look outside of Brad and Jen and see what other celebrities were up to behind the scenes.
If you can tear your eyes away from your zoomed-in photograph of that wrist-hold moment, take a look at what many more of your favorite stars were doing before, during, and after the SAG Awards. From Jennifer Garner and her glam squad getting ready to TV cast reunions to Sophie Turner's epic video of all her *thoughts* post-show, we're here to let you know everything you missed.
Sophie Turner totally NOT bragging about Leonardo DiCaprio walking past her
We all saw Turner dressed as a modern-day Barbie in her hot pink dress. But after the SAG Awards, she spilled all her thoughts from the darkness of her bed, in her pajamas. (#Relatable.) We even get a glimpse of what looks like a sleeping Joe Jonas next to her. (Her Instagram Story was captured in full by a fan account.)
Turner is truly stoked for Parasite's historic win for Outstanding Performance by a Cast in a Motion Picture. But we're truly here for her "not meaning to brag" about DiCaprio (or, "LDC" as Brad Pitt calls him) walking past her. Unrelated to the SAG Awards, but very much related to our interests, she later spills all her thoughts about the Lizzie McGuire news. Could we love her any more?
Jennifer Aniston showing off her contortion skills to not wrinkle her dress
Jen wasn't just busy giving us all exes goals at the SAG Awards. She had to go to great lengths to ensure that her satin gown would look as amazing as it did on the red carpet. Her A-list friends, like Courteney Cox, Billy Eichner, Gwyneth Paltrow, Drew Barrymore, and others, all sent their support in the comments.
Reese Witherspoon giving serious mom energy with her on-screen daughter, Kathryn Newton
Is it us, or is Reese all of our moms trying to take photos before the prom? And we know you're thinking it: We feel like this is one moment where Elle Woods would agree that orange might be the new pink.
Newton making everyone jealous by revealing that her DRESS HAD POCKETS (?!?!)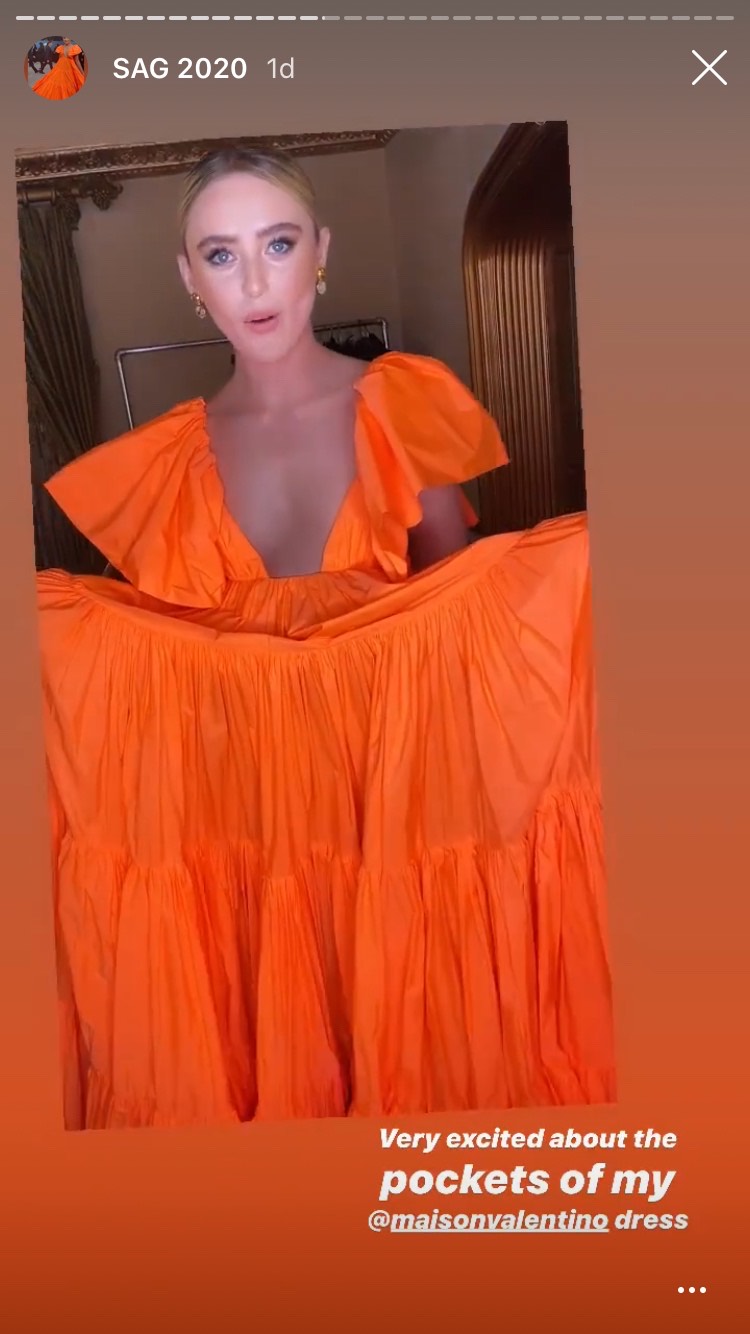 As if we couldn't love the Big Little Lies star's Valentino gown any more, Newton revealed that it has pockets! We're truly overcome, and this is the content (and the dress goals) we need.
Monterey 5 Big Little Lies reunions were abundant
Laura Dern, Witherspoon, and others were showing the love for the Big Little Lies cast. "My ladies, my bosses, my muses. And, of course, our patron saint Ms. Meryl," Dern captioned her post. To which Reese replied, "Monterey 6"?
Margaret Qualley throwing a one-person "PAR-TAY IN THE PO-TAY!"
https://www.instagram.com/p/B7jSnzIh91W
Um, just let us know, Margaret. Next time we'll come, and we'll bring champagne.
Lupita Nyong'o giving us 2020 inspo for our mood boards
https://www.instagram.com/p/B7hWWmbJZTO
From now on, our Instagram is going to be full of black-and-white (absolutely stunning), glamour shots. Lupita is just killing the game here. So much so that we totally forgive her for thinking this was her moment:
https://www.instagram.com/p/B7j8_CpJqVA
Busy Philipps (as always) being BFF goals for Michelle Williams
https://www.instagram.com/p/B7jxFxhhnxh
Philipps and Williams are our favorite celebrity BFFs, and they reminded us why in Busy's post-show Instagram photos. First, Philipps gives Williams a hand holding her "insanely heavy" SAG Award. She also shouted out her friend's award-sweeping performance:
"Congratulations to my stunningly talented friend for her 5/5 award recognition for a performance that left me speechless from start to beautiful finish," she captioned another photo.
https://www.instagram.com/p/B7jlChOhuVz
Dakota Fanning reminiscing about her SAG Awards appearance 18 years ago
If there were an 18-year challenge, Fanning would win, hands down.
Lili Reinhart passing up Taco Bell for the red carpet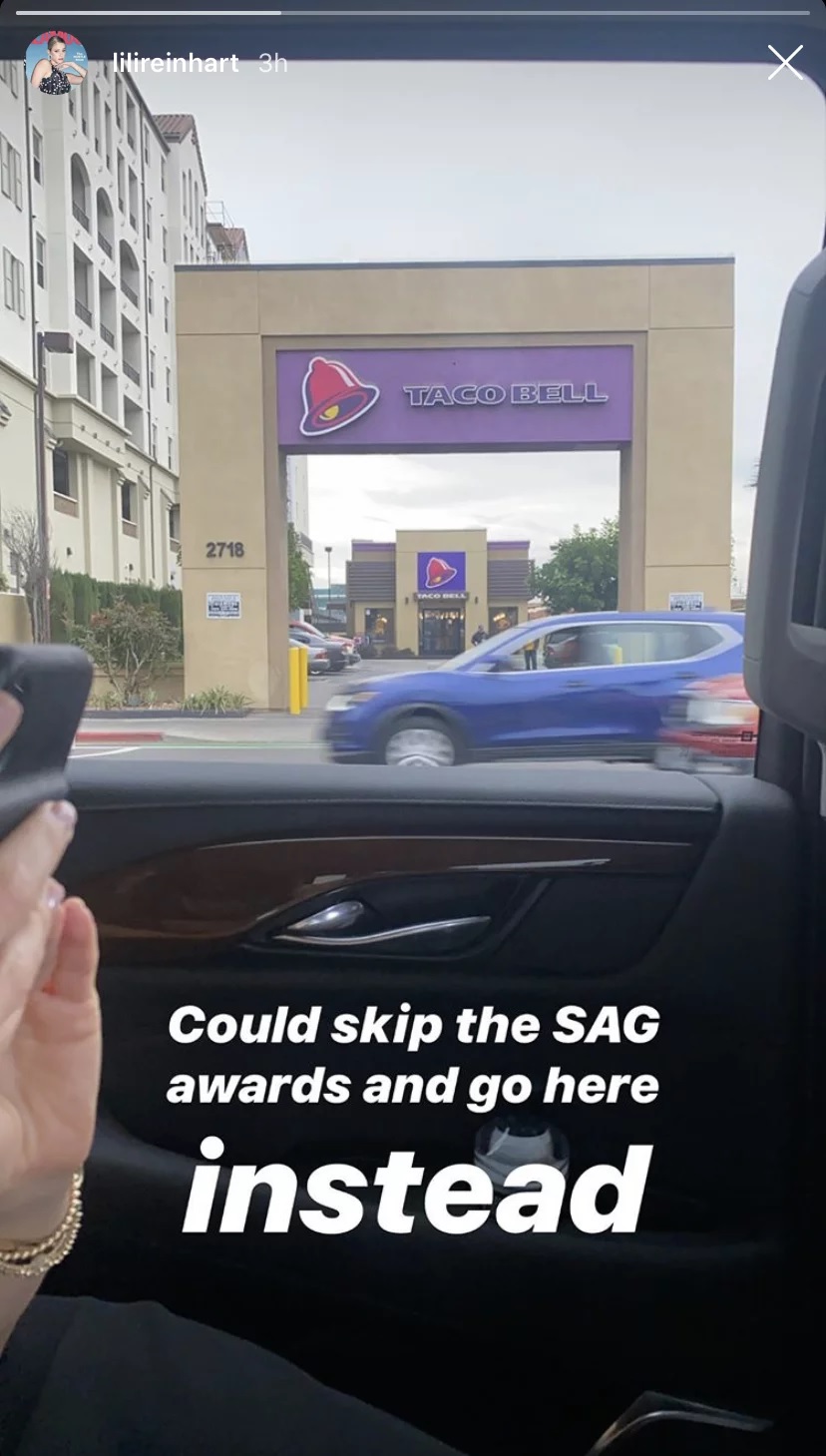 It's a real toss-up. We understand, Lili. (Though we're grateful for her choice.)
America Ferrera's behind-the-scenes look at "Mommy & Daddy heading out"
Ferrera announced she was pregnant on New Year's Eve, and she's giving us another look at her growing belly as she gets ready for the SAG Awards.
Reese Witherspoon waiting for her "Uber"
Ahem, "Uber." Though how incredible would it be to request a pool and have Reese in the backseat?
Winona Ryder and David Harbour celebrating in defeat
Honestly, all we can say about this Stranger Things Jopper love is, please save Hopper!
Jennifer Garner's entire glam squad getting her red carpet ready
Garner captioning her post, "Well, I went out tonight," is our wintery weekend night energy.