9 "Sabrina the Teenage Witch" looks we'd still wear (and work our magic in) today
Sabrina Spellman is just like us! Except, you know, she's a witch. The star of Sabrina, the Teenage Witchhas to survive the horrors of high school, all while being from another realm. Thankfully, with the help of her aunts Hilda and Zelda, Sabrina is able to conquer the mortal realm…mostly.
With her cat Salem by her side, Sabrina embarks on adventure after adventure as she navigates how to use her magic. And since this show took place in the '90s and early aughts, there are plenty of outfits Sabrina wears that we can't help but envy. Read on for nine favorites that we'd still wear today.
1A seasonally appropriate look that's fit for a witchy woman: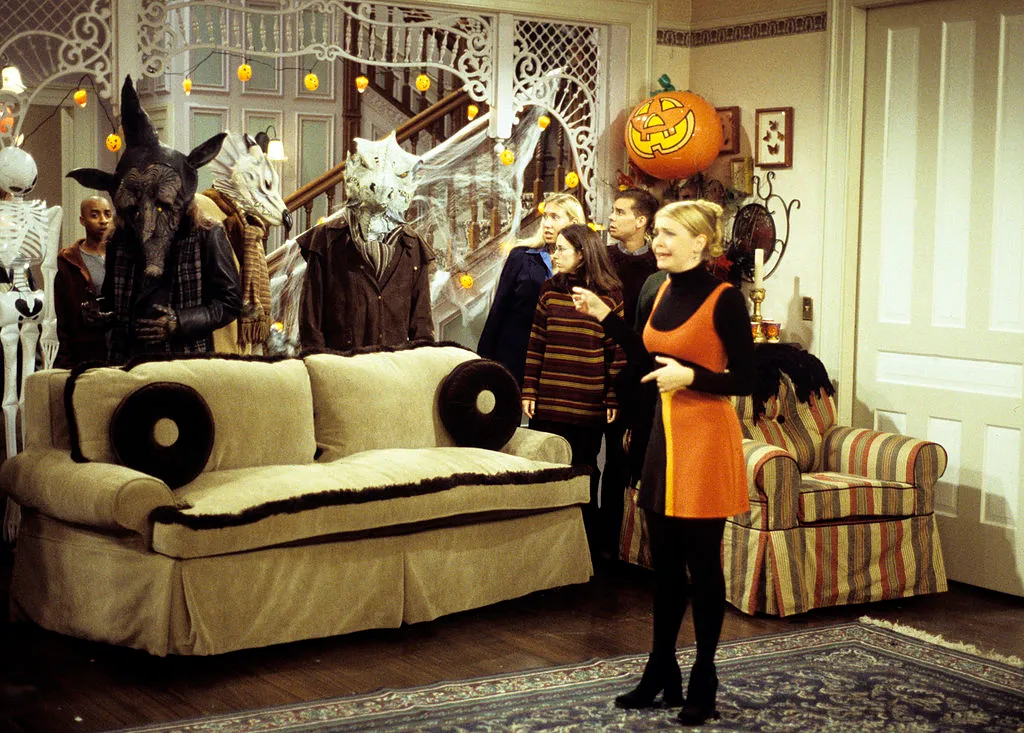 In Season 2's "A River of Candy Corn," Sabrina makes us rethink our aversion to black and orange together. This is a Halloween episode, hence the color palette, but we'd still wear this look on your average, non-spooky day. A smock dress, turtleneck, and booties are already fall staples in our wardrobe, and Sabrina's take on the look is inspiring us to revamp our own version.
2This dress that combines two of our great loves — royal blue and velvet:
It's no exaggeration to say we love velvet. We would wear the fabric every day if we could, which is why we love the look Sabrina wears in "Through The Looking Glass" in Season 1. The royal blue mini dress features a polo neck and collar, and Sabrina pairs the piece with opaque black tights. It's safe to say that we're into it.
3When Sabrina kills it in scarlet mesh:
We love that Sabrina was such a '90s girl. She wears this long-sleeved, scarlet top with mesh cutouts like no one's business. Paired with lipstick in a matching hue, we can't help but imagine all the ways we'd wear this top in 2017.
4That one black lace dress (or BLD):
When we say a good LBD is timeless, we mean it. This lace version Sabrina wears features long sleeves and a slightly flared hem. It may be one of Sabrina's most witchy looks, at least while she's in mortal mode, and we couldn't love it more.
5When Sabrina and Harvey dress up as Sandy and Danny:
In the first episode of Season 3, there's one look that stands out. Yes, it's a costume, but we'd still wear this on the reg — just 'cause. Sabrina and boyfriend Harvey dress up as Sandy and Danny from Grease, and the results are making us hopelessly devoted to these two. Disco pants, an off-the-shoulder top, and big curls will always be in style.
6The ultimate red-on-red look:
There's nothing quite like a simple bodysuit paired with a unique accessory (in this case, a bandana). Even with major muscles, Sabrina still pulls of this easy minimalistic look, reminding us that simple, matching pieces can be paired together to make a statement. Should we color-coordinate our closets to prepare for this look's comeback?
7A black furry hoodie that gives off a cozy visual:
We're all for black hoodies, and we're especially for black hoodies when they have a faux-fur hood. With this type of trim making its way onto everything from shoes to robes, it's only a matter of time before we see it on loungewear. And once we do, we'll be rocking it, and thinking of Sabrina the whole time.
8When Sabrina pulls off fringe like only a '90s babe can:
Remember that one time Sabrina wore a cropped fringe halter top? Although she paired it with a pendant for a hippie look, we do love the idea of wearing a fringe bra top to make a statement in a more modern way.
9As for our favorite, it's this preppy goth look:
Sabrina never turns down the opportunity to pair a turtleneck with a dress, but we especially love this rendition. With a black smock dress, lilac turtleneck, and matching barrettes, Sabrina looks like a '90s teen dream. Add in some hardware to the dress and you have a look we'd still copy to this day.