Stop what you're doing — The CW might make a "Riverdale" spinoff about Sabrina the Teenage Witch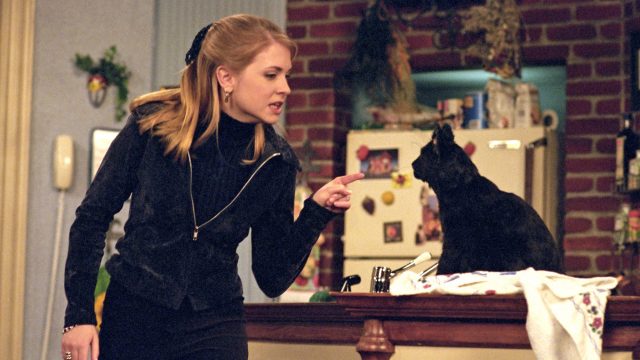 Sabrina Spellman may officially be returning to television, as The CW is looking to expand the Riverdale universe with an adaptation of the comic The Chilling Adventures of Sabrina.
While Sabrina didn't appear on the first season of Riverdale, series creator and chief creative officer of Archie Comics Roberto Aguirre-Sacasa is reportedly working with The CW to bring her to the network in a dark new series.
The first season of the CW drama made it *very* clear that we weren't in the bubbly Riverdale of the Archie comics — TV Archie did get abs, after all. After the Twin Peaks-style murder of Jason Blossom behind us, we can only imagine how different The CW's Sabrina will be from the one Melissa Joan Hart played in the '90s.
"Tonally in the vein of Rosemary's Baby and The Exorcist, this adaptation finds Sabrina wrestling to reconcile her dual nature — half-witch, half-mortal — while standing against the evil forces that threaten her, her family, and the daylight world humans inhabit," reads a press release detailing the in-development Sabrina series.
While we didn't see Sabrina hang out with the gang at Pop's Chocklit Shoppe, the first season of Riverdale did plant the seeds for the teen witch's eventual appearance, with Jason Blossom crossing Sweetwater River to Greendale (Sabrina's hometown) before his murder.
In addition to writing the new series, Aguirre-Sacasa will serve as executive producer, alongside Greg Berlanti, Sarah Schechter, Jon Goldwater, and Lee Toland Krieger. The series, if greenlit, would serve as a companion for Riverdale — à la Berlanti's Arrowverse — sometime during the 2018-2019 season.
The arrival of Sabrina Spellman means we could be inching towards finally seeing Afterlife with Archie on The CW!