A first look at the "Sabrina" reboot's Salem proves this is purr-fect casting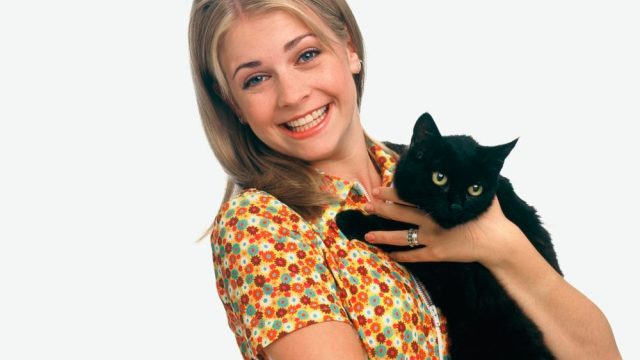 Sabrina is officially getting a reboot thanks to our friends at Netflix. The streaming giant will be producing a two-season, 20-episode series order of an adaptation of the graphic novel, The Chilling Adventures of Sabrina, which will feature stories that are a bit darker and more, ehem, chilling than the stories we saw in the '90s Melissa Joan Hart series. Still, we're pumped to see Sabrina come back into our lives.
While the series doesn't have an official name yet, the production team has made the biggest casting move for the show since naming Kiernan Shipka as our new Sabrina Spellman. And no, we aren't being dramatic at all. Because the show's executive producer Roberto Aguirre-Sacasa shared, on Twitter, the identity of one of the most important characters: Salem Saberhagen.
"Ladies and gentlemen, meet #Greendale's latest resident," Aguirre-Sacasa wrote. "All hail, Salem!" Indeed, Sabrina fans, we finally know the rebooted identity of our favorite pop culture black cat!
It's not clear what nature Salem will take in this untitled Netflix show.
While the original comics featured Salem as a regular cat, the Salem we knew from the Melissa Joan Hart series had him as a speaking, sarcastic cat who often made tongue-in-cheek comments about evildoing and taking over the world — and who, let's be real, will be very hard to live up to, but we're hopeful.
Ultimately, The Chilling Adventures of Sabrina latched onto those traits and made Salem a bit of a darker, more serious magical creature. If the new show is indeed taking a darker tone, it would make sense that Salem would have a darker nature as well.
Regardless, this kitty looks the part, and we can't wait to see more of him when the Sabrina reboot lands on Netflix.