We just got official confirmation that Harvey will be in the "Sabrina" reboot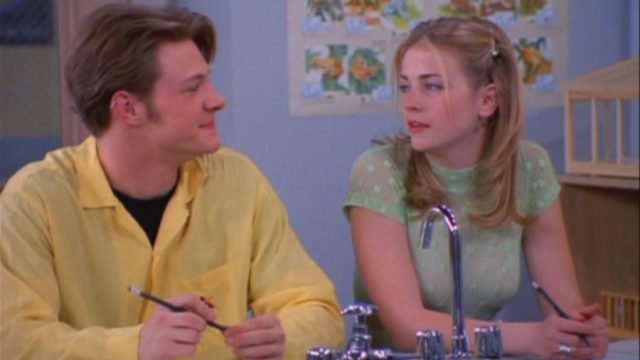 You know what would make October that much better? Sabrina the Teenage Witch, of course. And by the looks of Riverdale showrunner Roberto Aguirre-Sacasa's recent tweet, he has the same idea.
He just gave us a sneak peek of the script for The Chilling Adventures of Sabrina, a new Riverdaleuniversespinoffshow, and from what we can see, it's going to be spook-tacular.
Aguirre-Sacasa tweeted out the first page of the Sabrina script paired with a comic illustration of the famous teen witch. "Perfect project for October as the #Riverdale family expands," he wrote.
It looks like plans for Sabrina are locked and loaded and we need to see it on our television screens now.
The first page of the script features Sabrina and Harvey, her mortal BF, standing in the woods (possibly next to the Sweetwater River?). Sabrina explains to Harvey that this is the location where she will be "reborn" in a witchcraft-related ceremony.
Similar to Archie Comics going to the dark side in Riverdale, the characters in this new companion show will most likely have some shady pasts and harrowing futures.
So what we're saying is don't be surprised if Hilda and Zelda wear less denim and more black velvet.
A press release about the upcoming show states that Sabrina's story will be told "tonally in the vein of Rosemary's Baby and The Exorcist." Sabrina will "[wrestle] to reconcile her dual nature — half-witch, half-mortal," while trying to ward off evil that wants to harm her family and friends.
Guys, we're serious. It's going to get dark!
And because Sabrina's new show goes hand-in-hand with Riverdale, expect to see some crossover. Sabrina's hometown of Greendale is just across the Sweetwater River from Riverdale, after all.
Is that a future Sabrina, Jughead, Harvey love triangle we're seeing in our crystal ball? Only time will tell.