The first poster for The Chilling Adventures of Sabrina is here, and something wicked is definitely coming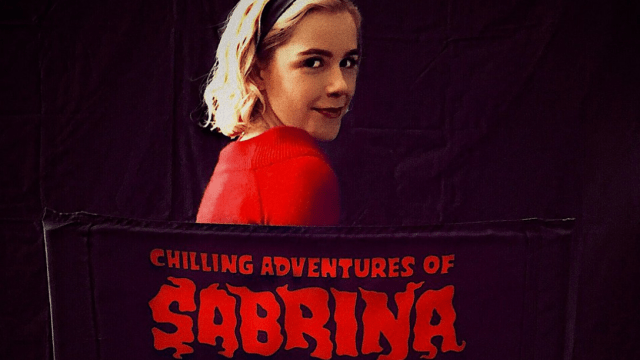 Netflix's upcoming series The Chilling Adventures of Sabrina may be a drastically different take on the iconic teen witch we grew up watching on TV, but it appears there's one thing that'll never change.
Series showrunner Roberto Aguirre-Sacasa took to Twitter to share the official first poster for the upcoming series, and it's — dare we say — chilling. The poster, which is giving us eerie old school Hitchcock vibes, features a colorful outline of Sabrina Spellman's iconic blonde bob, with Salem the cat sitting front and center.
The Chilling Adventures of Sabrina, which has been described as a cross between Rosemary's Baby and The Exorcist. will tell "a dark coming-of-age story that traffics in horror, the occult and, of course, witchcraft." The series, which was initially made for The CW, was scooped up by Netflix for a two-season, 20-episode order.
The official poster also presents the first photo of Kiernan Shipka as the titular witch — complete with red headband and ominous black and red color scheme. In early May, Aguirre-Sacasa tweeted the photo, confirming the series title. Referencing Macbeth, he added, "Something wicked this way comes…"
Not to read into this, but he's definitely warning us that old Sabrina has left the building – in a big way.
But while the series is taking on Sabrina in a much different way than the '90s sitcom starring Melissa Joan Hart, the series will still be full of familiar characters. Wonder Woman's Lucy Davis is stepping into the shoes of Hilda Spellman, Miranda Otto will be taking on the role of Zelda Spellman, and Ross Lynch is playing the adorable Harvey Kinkle.
Back in April, we got our first glimpse at Lynch as Harvey. After set photos were leaked, Aguirre-Sacasa tweeted the photo of Sabrina and Harvey looking so in love and oblivious of the dark drama ahead.
Netflix has yet to announce a release date for the first season, but if the poster is to be trusted, the something wicked is coming soon.