Being home is the perfect time to finally try a menstrual cup—here's my review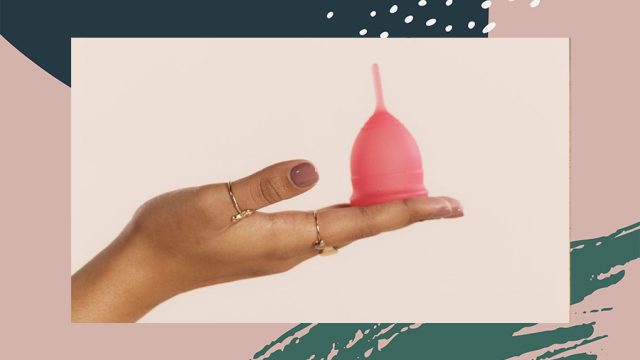 Four years ago, when I was preparing to study abroad in India, I was told that my access to period products may be limited. So I lined my suitcases with four and a half months' worth of tampons and pads to make sure that I would never be stuck without the period care I needed. I knew then that a menstrual cup was the more logical solution, but I wasn't ready for the lifestyle change quite yet. Learning to navigate both a new country and a new device to insert inside myself was more than I could take on at once, so I kept the 60-plus tampons in my bags and bookmarked the menstrual cup idea for another time.
In theory, I've always been for the idea of using menstrual cups. Aside from being easier to pack for a trip, menstrual cups can be a more sustainable alternative to single-use period products, both in terms of the environment and personal finances. What's held me back, however, is the discomfort of the adjustment period—and having to go through it in public. I didn't want to be transported back to puberty, feeling self-conscious about having my period at school and checking constantly to make sure I hadn't bled through my pants. So, switching to a menstrual cup remained on my to-do list for a long time.
Fast forward to almost two months ago today, and I'm packing my bags to go spend the foreseeable future quarantining at my childhood home—a place that has always been safe, familiar, and very private. I decided to pack my never-been-used Saalt Menstrual Cup and finally give it a try.
I had been gifted the cup a couple of months before, which knocked down another obstacle keeping me from switching earlier: the price point. I had hovered over menstrual cups (most of which ring up between $20-$40) at drugstores in the past, but I always opted for the $6-$7 boxes of tampons instead. Though that initial price was standing in my way, it doesn't take long for a menstrual cup to pay off. It takes less than a year, to be exact, since the average menstruating person will spend $50-$150 a year on tampons, according to the Mayo Clinic.
For instance, the Saalt cup is designed to last up to 10 years with proper care before needing to be replaced. A 2019 study published in The Lancet Public Health found that, when compared with using 12 pads or 12 tampons per period over 10 years, the use of a menstrual cup only makes up about five or seven percent, respectively, of the purchase costs. That means that an individual's period could cost, on average, over 90 percent less when using a menstrual cup.
In addition to the bang-for-your-buck value, a menstrual cup has been shown to be far more environmentally sustainable. The same study showed that menstrual cups also produce over 90 percent less plastic waste when compared to tampons and pads. When I now think back to how I packed nearly five months' worth of tampons and pads for my trip to India, all I can think of is how much waste I brought with me and left behind. In a small way, transitioning to a menstrual cup is allowing me to feel more at peace with my relationship to the environment. As I like to think of it, that 90 percent less waste equates to an "A" grade on my personal sustainability report card (in the subject of period waste, anyways).
So, that's all very convincing, but what about actually using a menstrual cup?
I'm not going to sugarcoat it: It wasn't love at first sight for me and my menstrual cup—but I was excited to try it out. I also was strangely excited for my period to come, which was the first time I had felt that way since middle school, when I was eager to join the group of girls who had already "matured."
The Saalt cup comes in intricately designed packaging with the cup carefully displayed like a piece of art. An instruction manual and a cloth carrier bag were both stored beneath the cup and were just as beautifully designed. Opening up my Saalt cup made me feel like I was unwrapping a new toy, except one that's for adults who wake up early enough to actually enjoy their coffee and do some light reading before work. (That's not me, but the artistic packaging of the menstrual cup I now own made me feel like maybe it could be.)
On the first day of my period, I woke up early and plopped my brand-new cup into a small pot of boiling water for five minutes to sanitize it. (This is the same pot I would later use to boil my ramen noodles, but that's beside the point.) Once sanitized and cooled, the cup was ready to get to work. I sat in the private comfort of my bathroom at home, instruction manual in hand, and figured out how to insert this foreign object into my body. This part was actually the easiest. I took the advice of the internet and focused on staying calm and relaxing, which helps the vaginal muscles relax and makes insertion easier.
Then, since the Saalt cup can be worn for up to 12 hours, I just went on with my day—which mostly just involved moving around to different rooms of the house. I also took a ride on our stationary bike to give my menstrual cup an extra challenge. Thankfully, it passed—no leaks or discomfort whatsoever. I did a similar routine for the next few days, and I would have all but forgotten that I had a menstrual cup in if it weren't for the fact that this was the most exciting thing happening in my life during quarantine. I typically have a regular flow and go through about two to three tampons a day, so the small sized cup worked for me (the regular size holds the capacity of three to four tampons). The brand also offers both sizes in a soft cup, made from slightly softer silicone, which is designed for those with bladder sensitivity, cramping, or discomfort with more firm cups.
Now, the hard part: removing the cup.
The first time I tried to remove my cup, I learned that I inserted it too far up into my vaginal canal, which made it harder to remove at the end of the day. I would compare this experience to what it feels like when you get a ring stuck on your finger in a store: You get red in the face, start sweating and tensing up (which only makes matters worse), then wonder at what point you'll have to call in for reinforcements. Luckily, I was able to remove the cup once I stopped panicking—a hefty 20 or so minutes later.
This panic set in again in the morning after I left my cup in overnight. Even though I inserted the cup lower this time, it had wiggled its way up while I was sleeping. I learned from Saalt Co's archived "Cup Tips" Instagram Stories that this is a completely normal experience. The brand's advice? Don't panic, go on with your morning routine as usual, and allow a little time for gravity to lower the cup down.
Emptying the cup after each use was a breeze because I could simply dump the day's flow out into the sink and wash it in private. When public life resumes, and I go back to work at the office, I know this convenient luxury will be gone. Fortunately, Saalt has Cup Tips for this, too. The brand suggests bringing a water bottle or pH-balanced wipe into the stall with you; that way, you don't have to empty and wash your cup at the sink in a public restroom.
Even though my first go-round with my menstrual cup wasn't as effortless as I had hoped, I felt more empowered after a week of using it. This small device had been intimidating me for years, but, since trying it and somewhat conquering it, I feel more appreciation for my body (shoutout to you specifically, vagina) and the ability it has to learn and adapt.
I also feel proud to support a women-owned brand like Saalt, which advocates for accessible menstrual health and stigma-free period education. The brand donates two percent of its revenue to provide period care to regions in need around the world. Plus—in addition to the positive environmental impact of menstrual cups versus disposable period products in general—Saalt is a certified B Corporation with a commitment to environmentally sustainable practices that give back to communities in need.
The brand also recently launched a waste calculator, so consumers can find out how much waste they'll divert from landfills by switching to a menstrual cup. For me, switching at age 23, the calculator found that I'll divert 11,700 period products from going into landfills.
Overall, period care is intimate and personal, so everyone should do what works best for their bodies. Menstrual cups aren't for everyone, and there are other sustainable alternatives—like reusable cloth pads and period underwear—for those who aren't into the idea of an oddly-shaped cup going inside them. For me, I'm committed to riding out the discomfort of adjusting to my menstrual cup (which Saalt says takes time and is totally normal, btw) and I'm looking forward to a lifetime free of pink tax and period product waste.
Saalt Menstrual Cup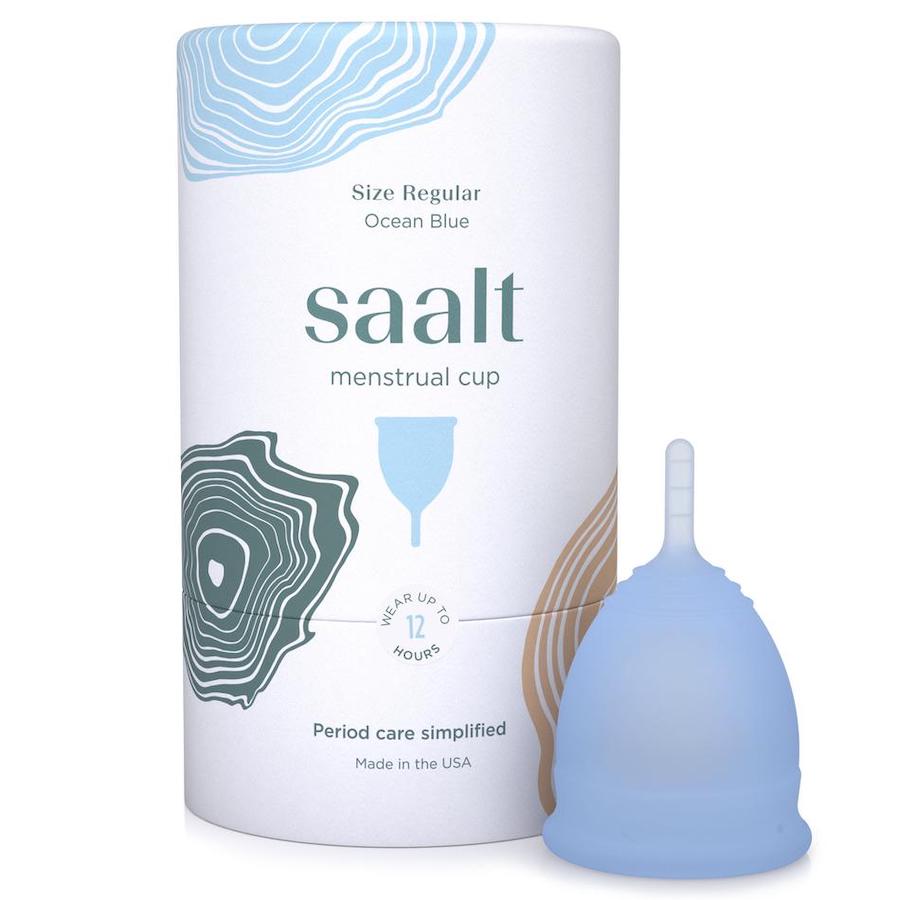 Also available to shop at: urbanoutfitters.com, anthropologie.com, and target.com.