A Trump official suggested cutting down trees to stop the California wildfires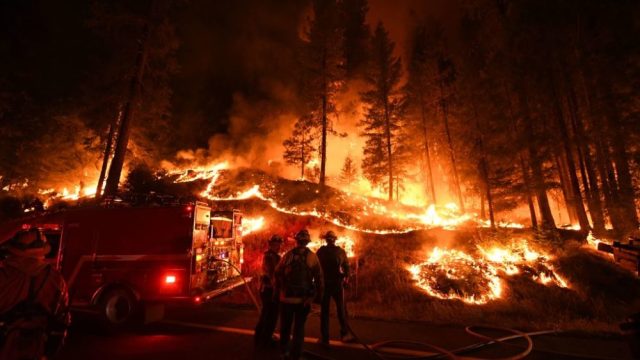 December 2017 saw some of the biggest wildfires in California history, and now the state is battling to put out at least 17 blazes. While on a tour of Redding, the site of the Carr fire (California's largest at the moment), Interior Secretary Ryan Zinke had a suggestion for how to prevent future wildfires: cut down trees.
The Sacramento Bee reported that on August 12th, while speaking near the Carr fire at Whiskeytown Lake, Zinke argued in favor of cutting down more trees in national forests. He spoke of needing to "reduce the fuels" and criticized environmental groups for blocking logging operations in public lands.
"The public lands belong to everybody, not just the special interest groups," Zinke told reporters. Later, he added: "It doesn't matter whether you believe or don't believe in climate change. What is important is we manage our forests."
Zinke's comments echo an August 6th tweet from President Donald Trump that suggested we must "tree clear" to prevent wildfires. In the same tweet, the president claimed that "bad environmental laws" resulting in water "being diverted to the Pacific Ocean" were to blame for the fires. In response, firefighters said that they had plenty of water.
https://twitter.com/udfredirect/status/1026587142989008897
The California Department of Forestry and Fire Protection already practices controlled burns to thin out excessive undergrowth in forests.
In May, Governor Jerry Brown issued an executive order calling for the state to double the amount of land subjected to controlled burns as a means of fire prevention. But many environmentalists argue that cutting down trees (as opposed to thinning out shrubbery and undergrowth) would do more harm than good.
A. LeRoy Westerling, a professor and co-director of the Center for Climate Communication at the University of California Merced, tweeted about tree clearing earlier this month.
"'Tree clearing' isn't going to help with the fires burning in grass and shrub fuels," Westerling said. As CNN noted, the Carr fire began as a brush fire.
Further, naturalist James Lowery told the Los Angeles Times that clearing forests in Southern California could have a devastating effect on local wildlife.
So far, as HuffPost notes, the Carr fire has killed eight people and burned more than 191,000 acres. There's no question that something needs to change to prevent these devastating wildfires, but it's not clear if logging would be helpful. Our government needs to protect the environment at all costs, which means talking to environmentalists to work out how to stop wildfires and preserve our forests.