7 things to know about Ryan Zapolski, the cute bearded Team USA hockey goalie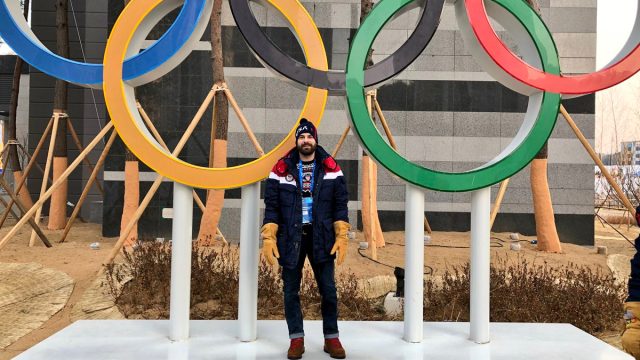 Ryan Zapolski may not be a household name yet. But if what we hear is true, he just might become one soon. Zapolski, a 31-year-old ice hockey goalkeeper from Erie, Pennsylvania is considered by many to be Team USA's secret weapon at the 2018 Winter Olympics in Pyeongchang, South Korea. But, wait, if this guy is so great, why haven't we heard about him before? Who is this hunky bearded mystery man? We'll tell you. Here are seven things to know about Ryan Zapolski, Team USA's cute hockey goalie.
1. Ryan Zapolski got a late start playing hockey.
Unlike many Olympic athletes, Zapolski didn't start in his sport until he was 11 years old. 11! That's wild. Apparently, he didn't even really start taking it seriously until late in his teenage years. Wow.
2. He was never drafted by the NHL.
After killing it playing hockey at Mercyhurst University, Zapolski hoped to make it to the NHL, but never did. He told his alma mater, "As you get older, you realize how difficult it really is. The hockey world is extremely competitive and as a goalie there is always somebody who wants to take your job." Bummer. But look at where he is now!
3. Ryan Zapolski currently plays hockey professionally in Finland.
He spent his years after university bopping around the U.S. with the ECHL (the American ice hockey league below the NHL) before getting an offer to continue his career in Finland. He currently plays for Jokerit, a team based in Helsinki.
4. And he's kind of an all-star over there.
"Zapolski has been one of the best goalies in the Kontintenal Hockey League this season, going 23-11-4 with a 1.73-goals-against average and .932 save percentage," USA Today explains. Holy moly. This past season, Jokerit won 15 consecutive games, 14 of which featured Zapolski in a starting position. Let's hope he can keep this up in PyeongChang!
5. Ryan Zapolski doesn't mind that no one really knows who he is.
"I know I wasn't a big prospect or anything," Zapolski told USA Today. "It took me a little bit longer to kind of make it. I'm making a name for myself a little bit older, but that's OK with me." The NHL isn't participating in the Olympics this year, which is why his name got thrown into the ring. He recognizes that some fans might be bummed. But, of course, he also is pumped that he has the opportunity at all.
"From a fan's perspective I'm sure there is some disappointment that the NHL isn't participating but, for guys like me, it is a once-in-a-lifetime opportunity," Zapolski continued. "I think that is something that we will all use as motivation – to not let a chance like this go to waste. It is going to be really emotional for most of the guys there, so that is an advantage I think we will have as Americans."
6. He's married to his high school sweetheart. (Awww!)
Zapolski married his wife, Elizabeth, in 2015. In an interview with Erie News Now, she gushed about her beau's success. "For me watching him, I honestly think he is such a humble person, he cares about his team, all of his players and he loves what he does so I think that makes him such a great goalie," Elizabeth said. "It's not just his job, or his career it's his passion and he works so hard every day."
7. Ryan Zapolski is pretty chill about all of the pressure of, you know, playing in the OLYMPICS.
Apparently, Zapolski is known for his tranquil nature, which Coach Tony Granato thinks is essential to success. "If your goalie's nice and calm and confident and relaxed back there, your team plays like his personality in a lot of different situations," Granato told USA Today. "That's one of the other things that we really liked from a staff perspective as we watched him all year is his calmness. He's deserved this opportunity to make this team."
We hope you crush it out there, Ryan! We'll be cheering for you and Team USA!