Ryan Reynolds recreated a scene from The Proposal with his Deadpool stunt double, and dreams do come true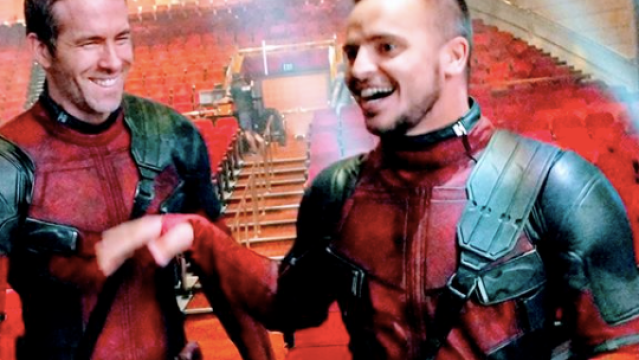 On May 3rd, Deadpool and Celine Dion released the music video for "Ashes" — a genius and hilarious collaboration for Deadpool 2 that featured Ryan Reynolds' Deadpool performing an elegant dance routine in heels around Dion. Obviously, Reynolds didn't do the dancing himself, which led us to who did do the Deadpool dance: Yanis Marshall.
"Ever wonder, 'How does Ryan Reynolds dance so beautifully? Did he have 8 bones surgically removed from his body in order to move as if a graceful swan had sex with Fred Astaire?'" Reynolds wrote on Instagram late on May 3rd, 2018. "The answer may surprise you. Yes. I did have 8 bones removed from my body. But the dancing was all [Yanis Marshall] This man is not just a dancer... he's an elite athlete, hero, and all around hilarious person. Follow him on Instagram. Put him in movies. Throw confetti at his feet when you see him. He is a gift to this weary world."
Naturally, we followed Reynolds' advice and checked Marshall out on Instagram where we found this little gem: Reynolds and Marshall recreating the "It Takes Two" scene from The Proposal.
You remember this scene, right? It's only, like, the moment when Reynolds and Sandra Bullock realize that they are FALLING IN LOVE.
https://www.youtube.com/watch?v=zcrEvSOdZc4?feature=oembed
Listen, Reynolds' dance double Marshall is no Sandy Bullock in this The Proposal recreation, but we're still feeling the friendship between the two Deadpools.
"All I know is that [Ryan Reynolds] Is the one! Most humble person I've ever met. And just jokes after jokes gotta love him!!!!!" Marshall wrote on Instagram. "Oh and you know as soon as I met Ryan I couldn't resist to ask him to sing this iconic moment from [The Proposal]."
Aw, cute. Moments like these are why we continue to stan for Mr. Reynolds.